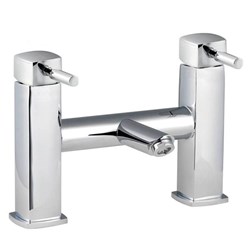 Home-owners can browse through hundreds of taps.
(PRWEB UK) 22 October 2012
With various different finishes becoming available in the bathroom market for almost any type of product in the market, a big personal choice comes into play when considering items for any bathroom. It is always important to keep and maintain a sense of co-ordination within any bathroom suite to provide a professional and sleek design. At Bella Bathrooms, home-owners can browse through hundreds of taps and guarantee to help find the perfect product.
Sometimes home-owners only wish to replace one pair of taps at a time, be it bath or sink , and this can be lead to confusion when needing to select co-ordinating tap when replacing. At Bella Bathrooms, they stock new and updated chrome, brass and gold plated taps perfect for a wide range in varied styles. The range available will surely fulfil anyone's required needs and specific design to match any suite.
All new taps are of extremely high standard and feature the latest visual aspects to help create a modern feel in any suite. The items are produced by some of the leading bathroom manufacturers in the UK. The products all feature a company guarantee highly useful when needing to deal with certain difficulties. This shows how the company excel in selling only the finest quality products.
The brass taps Bella Bathrooms sell are often found on more traditional tap designs within their range displaying a lifetime finish capable of resisting any damage or wear. Chrome taps are perfect for anyone wanting a brushed, polished or matte finish in their bathroom. These types of taps are easy to use, economical and last the test of time. This results in a perfect choice for anyone wanting the ultimate look and quality.
For an impressive visual effect, gold taps are an amazing choice for home owners wanting an increased design and sense of style. The company stock the highest of quality gold taps guaranteed to survive any corrosion possibilities or damage. With a titanium finish, the ability to resist scratching makes this an excellent choice for home-owners who want that extra level of quality.
The new range of items available to view on their online store with a range of pricing allowing anyone, no matter what budget they are on to purchase designer taps to add the finishing touch. With items in high quantity and the quick delivery times, finding the right item is just a few clicks away.
About Bella Bathrooms:
Bella Bathrooms is one of the finest UK online bathroom retailers based in the North-East of England and offer continuous great deals of bathroom refurbishments, shower, towel rail and radiator updates, stylish bathroom furniture and various other key elements at prices that are guaranteed to be unsurpassable. The latest updates continuously made have further improved the overall quality and they have set a high standard for things to come in the future.
Bella Bathrooms
Tel: 0844 8117 017
Available to contact from 9am – 5pm