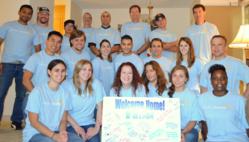 It was overwhelming; we really changed two people's lives.
Waltham, MA (PRWEB) October 18, 2012
A single mother and her five-year-old son, who have been homeless for the past two years, are settling into a fully-furnished apartment in Weymouth, Massachusetts this week thanks to Heading Home and employees of PatientKeeper Inc.
PatientKeeper employees donated and delivered all the furniture for the family's new two-bedroom apartment, set it up, and cleaned and decorated the apartment (including fully stocking the kitchen and pantry) in advance of the family's arrival on move-in day. In a scene reminiscent of the "Extreme Makeover: Home Edition" television program, the family was thrilled and speechless when they first set eyes on their new home, ready for occupancy – and found a welcoming committee of 20 PatientKeeper employees there to greet them.
"It was overwhelming; we really changed two people's lives," said Joshua Damaso, a PatientKeeper implementation consultant, who led the PatientKeeper team. "The whole project couldn't have gone any better. It was fun to see so many people from different parts of PatientKeeper working together outside of the office and having fun."
The five-year-old was especially excited about his bedroom, which was decorated in a Spider-Man motif (his favorite super hero) and furnished with a bunk bed, and all the toys he found there. "He was jumping around with a huge smile on his face," Damaso said. "One of the first things he did was try to put on the Spider-Man Halloween costume we had gotten for him."
The mother was so moved by the kindness and generosity shown to her and her son that she has offered to "pay it forward" by being part of the set-up crew for Heading Home's next move-in project.
PatientKeeper worked on the project under the auspices of Heading Home, a non-profit organization that provides emergency, transitional and permanent housing and support services to low-income homeless and formerly homeless families and individuals in the Boston area.
The on-site PatientKeeper project team included a wide range of employees, from a marketing department intern to the CEO. Material and cash contributions came from more than one-third of the company's 155 employees.
"The level of compassion and selfless giving of peoples' belongings, money and time was something to be very proud of," said Mike Southern, PatientKeeper's vice president of human resources. "It was great to see how our employees embraced this community service project. We look forward to doing it again in 2013."
About PatientKeeper
PatientKeeper® Inc. is the leading provider of healthcare applications for physicians. PatientKeeper provides highly intuitive software that streamlines physicians' workflow to improve productivity and patient care. PatientKeeper's CPOE, physician documentation, electronic charge capture and other applications run on desktop and laptop computers and popular handheld devices and tablets. PatientKeeper's software integrates with existing healthcare information systems to create the most effective solution for driving physician adoption of technology, meeting Meaningful Use, and transitioning to ICD-10. For more information about PatientKeeper, which is headquartered near Boston, Mass., visit http://www.patientkeeper.com, or call (781) 373-6100.