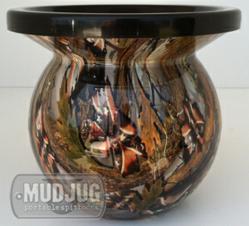 The PBR Finals is one of our favorite events to attend
Rancho Cucamonga, CA (PRWEB) October 23, 2012
As one of the fastest growing sports in the country, the Professional Bull Riders Built Ford Tough World Finals hits Las Vegas, Nevada. The UNLV Thomas Mack Center will host this year's event. Cowboys at heart, Mud Jug Portable Spittoons is looking forward to attending. "The PBR Finals is one of our favorite events to attend," says Mud Jug owner Darcy Compton.
Walk around any rodeo event and it is obvious smokeless tobacco and cowboys are a perfect match. "Bull riders and chewing tobacco all go hand in hand with our product," says Compton, who grew up riding bareback horses and bull riding.
Mud Jug offers a unique product that appeals to fans and riders of the Professional Bull Riders. Mud Jug Portable Spittoons make great, affordable gifts for smokeless tobacco consumers and are available in many assorted patterns and designs. Say goodbye to nasty spit cups and spit bottles. Now dippers don't have to worry about spilling or drinking from the wrong cup.
The PBR Built Ford Tough Finals also marks the introduction of many new limited edition Mud Jugs. This includes the Confederate Camo Mud Jug. Made of high impact injection molded plastic, the Mud Jug boasts a weighted base and easily removable, snap-fit funnel lid. Its ergonomic design fits securely in a hand and its innovative shape conceals odors and virtually eliminates spills.
Mud Jug Portable Spittoons are available exclusively through Mud Jug's website. Although only available online at this time, plans are currently in the works to expand Mud Jugs into larger retail outlets. "One day major retail chains will realize that the smokeless tobacco business is a billion dollar industry. Then consumers will find Mud Jugs in major retail outlets," Compton says.
Make 8 seconds and grab a Mud Jug Portable Spittoon.
About Mud Jug:
Mud Jug Portable Spittoons was founded in 2004 by innovator/owner, Darcy Compton. The goal was to provide smokeless tobacco consumers with a unique spitting solution. Hence, the spill-resistant, Mud Jug Portable Spittoon was born. Mud Jugs are proudly made in America.
For more information visit Mudjug.com