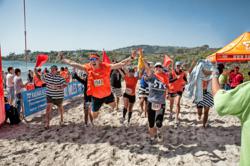 With the Kimbia platform, Ragnar's in-house programmer can make changes instead of waiting in a development queue in hopes that our needs bubble up to the top of the list
Austin, TX (PRWEB) October 17, 2012
Kimbia Racing – which offers the most powerful and flexible event management and online fundraising platform in the marketplace – today announced that Ragnar Events, LLC has selected the company as its technology partner for participant registration and participant relationship management.
Ragnar produces the nation's largest overnight running relay race series with 15 relay races coast-to-coast. Ragnar chose to replace its proprietary system with Kimbia over competitive solutions because it is highly scalable and gives the company total control over registrant data, funds and branding. Additionally, the Kimbia platform is designed to support Ragnar's international expansion plans.
"Ragnar is known for delivering a unique, team-based and highly social, running experience to an expanding community of athletes and fans. As we grow, we want to ensure that all aspects of the participant experience – including online registration and team management – are consistent with that," said Jennifer Whiting, Chief Marketing Officer, Ragnar Events. "With the Kimbia platform, our in-house programmer can make changes instead of waiting in a development queue in hopes that our needs bubble up to the top of the list."
With Kimbia Racing, Ragnar is able to:

Provide a strongly branded experience for participants through the use of customized registration forms on its website versus the standard industry practice of sending participants to a third-party site.
Fully own and control all registration data and funds, which typically is not the case with other race solutions. All data in the Kimbia platform is available, reportable and exportable in real-time and never used for any purpose outside the client's control, such as third-party marketing for other events. Also, funds are immediately deposited directly into the client's account and never received, controlled and held by a third-party.
Empower race participants to directly manage their teams online in real-time as needs arise, rather than requiring them to contact the event producer or registration company before the event, or attempt to get changes made onsite the day of the race.
Confidently implement a secure, lottery-based and/or wait list registration system if demand exceeds capacity – if more people want to participate in a race than the company plans to accommodate.
"We were happy to provide Ragnar with the deep level of customization they needed," said Simon Essl, General Manager, Kimbia Racing. "Ragnar has a very strong brand and our solution allows them complete control. That's the hallmark of the Kimbia Racing solution."
About Ragnar Events, LLC
Based in Utah, Ragnar Events, LLC is the largest overnight running relay series in the United States. Traversing inspiring and scenic destinations around the country, these events make testing your limits a team sport. Teams of 12 run this 200-mile relay in the course of two days and one night. They connect in memorable relationships, conquer a challenge that could not be done alone and celebrate with medals and finish line festivities. Often called a slumber party without sleep, pillows or deodorant, this unique relay turns out crazy costumes, inside jokes, close quarters and unforgettable stories. Begun as a single relay from Logan to Park City, Utah in 2004 by college roommates, Dan Hill and Tanner Bell, now more than 160,000 people have run in the Ragnar Relay Series presented by Nordic Track, which boasts 15 races and is growing every year. Visit http://www.ragnarrelay.com for race dates and exact locations.
About Kimbia Racing
A division of Kimbia, Kimbia Racing provides the most powerful and flexible event management and online fundraising platform in the marketplace today, empowering race organizations to instantly create, control and deploy their best event registration ideas at the exact time and point of inspiration. Kimbia Racing proudly supports directors of leading events nationwide and abroad, including IMG Worldwide's Escape from Alcatraz™ Triathlon, Reed Streets' Run for Your Lives events, Beijing International Triathlon, MetroPCS Dallas Marathon and The Nation's Triathlon. For more information, visit http://www.KimbiaRacing.com.
# # #