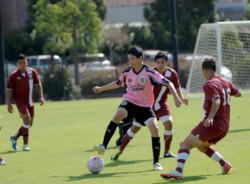 The Santa Clara Sporting soccer club provided 120 free mammograms to women with financial needs because breast cancer is 98% curable through early detection.
Santa Clara, CA (PRWEB) October 19, 2012
The Santa Clara Sporting soccer club is excited to announce their 5th Annual Goals for a Cure fight (#GFACfight) against breast cancer will break the $100,000 fund-raising milestone this October. The Northern California soccer club collected more than $95,000 in donations since 2008, after two soccer moms on the Santa Clara Sporting '93 boys team were hit with breast cancer. One soccer mom died and the other survived her fight with breast cancer, and it was that impact which spurred Kevin and Jason Azevedo to start Goals for a Cure. Donations are used to provide women with financial need a free mammogram at El Camino Hospital in Santa Clara County. Goals for a Cure has provided 120 women with a free breast examination and 48 women were detected to have breast cancer and started treatment.
"Breast cancer is 98% curable through early detection, and Goals for a Cure donations from Santa Clara Sporting have provided early detection right here in Santa Clara," said Lea Morgan, from El Camino Hospital Foundation. The club partnered with El Camino Hospital to provide free mammograms because Dr. Patricia Rogers, a Santa Clara Sporting '91 team soccer mom and El Camino Hospital physician recommended the club could make a huge impact by sponsoring local mammogram services.
Two Santa Clara Sporting soccer moms, Sheila Bernus Dowd and Angela Quinn kicked-off the 2012 Goals for a Cure campaign by sharing their personal stories about successfully battling breast cancer after early detection caught the disease last year. You can view Sheila Bernus Dowd and Angela Quinn's videos on Santa Clara Sporting's YouTube channel.
All 37 Santa Clara Sporting soccer teams will compete in soccer league games and tournaments across Northern California in their pink Goals for a Cure jerseys to raise awareness and donations to fight breast cancer. Teams collect donations through many creative fund-raising efforts, and a month-long goal-a-thon where supporters make a donation for every goal scored by all Santa Clara Sporting teams.
Donations can be made to Goals for a Cure online, and fans can join the Goals for a Cure Facebook fan page, or find more information at http://www.santaclarasporting.com. For eligibility requirements and to learn more information on the Free Mammogram Program at El Camino Hospital, call 800-216-5556.
Press and media can find Goals for a Cure photos and videos in their Dropbox folder
About Santa Clara Sporting Soccer Club
Santa Clara Sporting Soccer Club is a high-level competitive amateur and youth soccer club in Silicon Valley. The club is one of the oldest and most successful competitive youth soccer organizations in the United States. Santa Clara Sporting was founded in 1971, and now has more than 600 boys and girls youth players on 36 teams; many graduate to compete in NCAA collegiate programs and at the professional level. Santa Clara Sporting is affiliated with the Santa Clara Youth Soccer League. More information is available at http://www.santaclarasporting.com
About El Camino Hospital Foundation
El Camino Hospital Foundation, in partnership with patients, physicians, employees, community leaders and philanthropists, raises money to help El Camino Hospital in Mountain View and El Camino Hospital Los Gatos best meet the health needs of the communities they serve. These funds enable the hospital to offer state-of-the-art care to its patients while underwriting its efforts to provide health services to the economically disadvantaged. The philanthropic partnership enhances the hospital's ability to create a compelling work environment for physicians and staff and offers fulfilling opportunities to donors and volunteers. More information is available at http://www.elcaminohospital.org
Media Contact Information
Santa Clara Sporting Club
Gabe Foo
408-910-3547 scsccoach(at)yahoo(dot)com
http://www.santaclarasporting.com
Santa Clara Sporting on Facebook
Twitter: tweetscsc
282 Brokaw Road, Santa Clara, CA 95050
El Camino Hospital Foundation
2500 Grant Road PAR 116
Mountain View, CA 94040
650-940-7154
foundation(at)elcaminohospital(dot)org