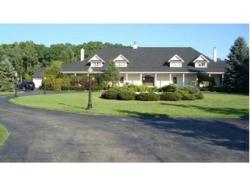 Amsterdam, NY (PRWEB) October 18, 2012
A recent listing of a mansion for sale has caught the eye of many buyers, as it offers something that other million dollar listings do not. Among its many features, the home at 7 University Place Amsterdam, NY was built as a larger replica of the Ewing Mansion at Southfork Ranch on the former hit TV series "Dallas". For those looking to live like a celebrity, why not discover the home that was based off of a hit television series? Beyond its roots as a larger scale replica, the New York mansion offers something extra for TV and movie buffs: a theater room that seats 46 people!
The house for sale NY is an entertainer's dream, as one could screen showings of the "Dallas" series while living in the wealth and luxury associated with the Ewing Mansion. Beyond the theater room and bar located in the finished basement, residents will enjoy the ability to host large parties, as there are twenty parking spaces located on the property. The two-story mansion features multiple fireplaces for hosting indoor events during the colder months, but also has many grandiose outdoor areas that are perfect for entertaining guests. A tennis court and newly resurfaced swimming pool along with the Victorian gazebo which overlooks the forest really provide a unique variety of outdoor activities to those enjoying their time visiting the property.
The mansion for sale has something to offer everyone—from those looking for a weekend getaway home to those looking for privacy from their highly publicized lifestyle. There is no better reward for a successful life than purchasing an affordable property that will prove to be a dream home for the residents. Live like the wealthy Ewings of the television series "Dallas"- enjoy the 7.8 acre seven bedroom and seven bathroom mansion for only $999,000. For more information, take a virtual tour of the home today at http://www.youtube.com/watch?v=yrej9ugm9rs or call Rosa MacLeod at 518-348-8678.