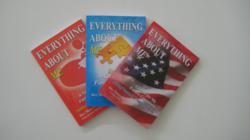 The author seems to cover just about every topic that needs to be considered.
Blaine Greenfield
Orlando, FL (PRWEB) October 19, 2012
Through personal experiences, caregiver Dee Marrella became an author. She discovered, much to her own surprise, that individuals, aren't prepared for the day that they find themselves being cared for. Americans purchase all kinds of insurance products for those events that might occur in the future. Wills are prepared. But people typically fail to tell those around them, how they would like to be cared for, what they do or don't want done in the event of a catastrophic illness, or how they prefer funerals to be handled. Individually, people loll ourselves into overlooking our own future caregiving.
Most Americans assume that when the day comes that we require such care, spouses or partners, adult children or close relatives will be there and cover the bases. However, as the statistics strongly indicate, many individuals will be cared for by strangers. And as can be expected, those strangers, no matter how well intended, will only know our medical status and current condition, and little else. And even if our older children cared for us, how much personal information do they really know?
Dee Marrella, through her publisher DC Press LLC, set out to create a tool that anyone could put to use, which she calls "love insurance." She designed a way for us to set down in writing (either on paper or on our computers), the means to tell the world "Everything About ME: A Guide for My Future Caregivers."
Now in it's most recent and update editions, "Everything About ME" can be put to use for individuals, as well as families with children of special needs, and active duty military personnel and their families. These three specially-designed books are easy to use and will provide those close to you (both personal and professional) with information that won't have to be guessed at – but will be easily found and put to good use.
Many elderly parents don't like the idea of talking about their long-term health situations or their eventual deaths. But, with a copy of "Everything About ME" in hand, the important information that will help provide a better level of care, can be discussed, uncovered and put into an understandable format. This tool will have literally "everything" any of us would want our families – and strangers who will care for us – to have readily at hand.
For families with children of special needs, "Everything About ME" will provide a level of relief that literally all things are in a single format, and that future caregivers and guardians will have easy access to critical information. Military veterans, concerned for how they might be cared for down the road, have a special edition that they, and their family members, can complete and have at the ready. Dee has also prepared commentaries for Military Spouse Magazine.
One important fact that has emerged from seeing thousands of people become engaged in completing their own copies of "Everything About ME," is that having the information available to all who are close, arguments have been significantly reduced. Relatives and adult children can easily see exactly what an individual desires in regard to such topics as life support, heroic measures, music to be played at a funeral, and even the type and color clothing to be worn. Such topics have caused many a family to go into turmoil, but when it is written down, this can have a dramatic and soothing impact of decision-making.
From the brand of preferred toothpaste, to TV shows one likes to watch or foods that are disliked – "Everything About ME" gives users that ability to assist their families through what can be the most difficult times of anyone's life. Those who have acquired and utilized these books have discovered how much stress can be taken off everyone involved.
Dee Marrella has spoken around the country to long-term care groups, pharmaceutical and insurance companies, medical groups, and local nonprofits. She is available for interviews and speaking engagements. See her contact information, as well as that of the publisher
###