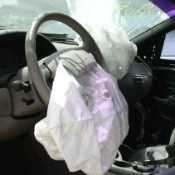 When an airbag fails or when it doesn't work properly, drivers and passengers are at serious risk of suffering catastrophic injuries or even death.
Newport Beach, CA (PRWEB) October 17, 2012
The National Highway Traffic Safety Administration (NHTSA) is warning consumers about repair shops that are installing cheap, counterfeit airbags that may fail to inflate or may not properly inflate in accidents. According to an Oct. 10 report by Dow Jones Newswires, NHTSA officials have stated that they found these untested and unauthorized airbags installed in about 1 percent of the vehicles on the road today, which accounts for about 240,000 cars and trucks. The report states that more than 100 different vehicle models are at risk including popular ones such as Honda Accord, Toyota Camry and the Chevrolet Cruze.
The auto safety agency is still trying to determine the full scope and scale of this problem and is not aware of any injuries or fatalities resulting from these counterfeit airbags, the Dow Jones report states. However, testing by NHTSA has reportedly shown that a majority of these imitation airbags did not work properly and expelled some type of metal shrapnel that could potentially cause serious injuries to vehicle occupants. Officials are asking consumers who have had their airbags replaced within the last three years by independent repair shops to get them checked by an authorized dealer.
"Airbags are a critical piece of safety equipment that we as drivers have come to count on as an additional layer of protection in the event of a crash", says John Bisnar, founder of the Bisnar | Chase auto defect law firm. "We have represented consumers who have been seriously injured as a result of defective airbags that either failed to deploy or deployed inadvertently with such explosive force that they caused serious injuries. If you suspect that you have one of these counterfeit airbags in your vehicle, it is crucial that you contact your authorized dealer right away to get it inspected and replaced, if necessary."
Although an inspection and getting the airbag is a hassle and may cost up to $1,000, Bisnar says the effort and expense may be worth it. "When an airbag fails or when it doesn't work properly, drivers and passengers are at serious risk of suffering catastrophic injuries or even death. As someone who has seen these types of damages first-hand, I'm deeply concerned about these defective airbags."
About Bisnar | Chase
The California auto defect lawyers of Bisnar | Chase represent victims of auto accidents, defective products, dangerous roadways, and many other personal injuries. The firm has been featured on a number of popular media outlets including Newsweek, Fox, NBC, and ABC and is known for its passionate pursuit of results for their clients. Since 1978, Bisnar | Chase has recovered millions of dollars for victims of auto accidents, auto defects and dangerously designed and/or maintained roadways.
For more information, please call 800-561-4846 or visit http://www.california-lawyer-attorney.com for a free consultation.
Source: http://www.foxbusiness.com/news/2012/10/10/us-auto-safety-regulators-warn-counterfeit-airbags/
http://www.nhtsa.gov/About+NHTSA/Press+Releases/2012/Safety+Advisory:+NHTSA+Alerting+Consumers+to+Dangers+of+Counterfeit+Air+Bags