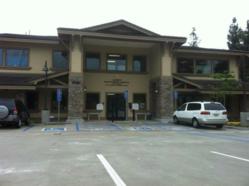 We thank the City of San Dimas for the award and will continue to strive to be part of the best schools in the city!
(PRWEB) October 18, 2012
Arrow Montessori School in San Dimas has received the title of Best New Commercial Building of the year from the San Dimas Chamber of Commerce. San Dimas Mayor, Curtis Morris, presented the school with their new award at the annual Community Award and Installation Dinner during the school's summer recess in July.
Montessori schools have a proven reputation of excellence as places of education for young children and early teens. The Montessori teaching methods were designed by Maria Montessori, who was also the first woman to attain the title, Doctor of Medicine, in Italy. Ms. Montessori developed the method of using special educational material and instructors through her work with children that were handicapped and socially deprived. As a result of her efforts, hundreds of children have benefited from her unique approach to child education. In order for a school or teacher to be able to use the Montessori method, they must go through special training and certification.
The community award exemplifies the dedication that Arrow Montessori School in San Dimas has to provide the best education possible for their students in a pleasant learning-focused environment. A spokesperson for Arrow Montessori School says: "We are very much honored to be introduced and awarded by the San Dimas Mayor himself – Mayor Curtis Morris! We thank the City of San Dimas for the award and will continue to strive to be part of the best schools in the Best New Commercial Building/Fall Picture Days city!"
The school offers programs for infants, preschoolers, primary, lower elementary, upper elementary, and middle school aged children such as:

Sports/physical education
Computer lab
Science: biology, chemistry, physical science
Art
Music
Crafts
Dramatic arts
Mathematics
Martial arts
Gymnastics
Spanish
Individualized academics
Field trips/special enrichment events
Instructors are screened carefully to ensure that they will promote an atmosphere in their classroom of learning, support, respect, motivation, self-esteem, and independence. Each teacher is an internationally accredited Montessori instructor as well as CPR and First Aid Certified. Children are encouraged to discover the world around them with hundreds of self-teaching, or didactic, materials in each classroom. These materials are used by the children at their own individual learning level, helping them develop coordination, greater comprehension, a dedicated work ethic, attention to detail, and a higher self-esteem. For more information on Arrow Montessori School and the Montessori learning method, please visit their website at http://www.arrowmontessori.com
About Arrow Montessori School:
Arrow Montessori School in San Dimas offers specialized teaching to children from the ages of 2-15. They emulate the teachings and methods developed by the founder of the Montessori method, Maria Montessori. Arrow Montessori School teaches children how to think in logical patterns and handle realistic issues and challenges. For more information please visit their website at http://www.arrowmontessori.com
Contact information: 818 West Gladstone Street. San Dimas, CA 91773
Call us at (909) 599-0025