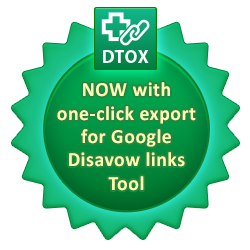 Matt Cutts stated, "If you've done as much as you can to remove the problematic links, and there are still some links you just can't seem to get down, that's a good time to visit our new Disavow links page."
(PRWEB) October 18, 2012
Many webmasters have been suffering from Google's unnatural link warnings, and the Disavow link tool is a step forward in cleaning up unwanted backlinks. By combining the Link Detox tool with its new export function, you can easily tell Google which links to your site you'd like to ignore.
The Link Detox tool exposes all links to your website and classifies them into toxic, suspicious and healthy links. Toxic and suspicious links can be harmful to search engine rankings. Once a user figures out which links to disavow, by using the Link Detox tool, the new one-click export function directly creates a suitable export file for the Google Disavow links tool.
CEMPER.COM still recommends using the integrated contact function, in Link Detox, to get those links completely removed from the web. However, contacting thousands of webmasters can be difficult. If a website has been caught up in link spam, disavowing "unnatural links" can be a useful method of removal.
Both Google and CEMPER.COM are clear on stating; make sure you review all links you want Google to ignore. Disavowing good links might hurt your site rankings. Google states, "We don't recommend using this tool unless you are sure that you need to disavow some links to your site and you know exactly what you're doing." CEMPER.COM provides no liability for the completeness or correctness of the export list, and it is your own sole responsibility to tell Google to disavow any of those links.
CEMPER.COM developed a unique way of finding toxic and suspicious links with Link Detox. Integrating the Link Detox tool with Google's Disavow tool allows for expediting the process of removing a large number of unwanted links.
Company Information profile
CEMPER.COM is an SEO agency specialized in link building and search engine optimization (SEO). The agency offers link building software, link building strategy development, SEO competitive research, SEO training, and SEO tools. The company is based in Vienna, Austria, Europe, and was founded in 2003. CEMPER.COM serves over 500 international customers in the US, UK, Australia, and all European countries - including Germany, France and others.
Contact:
CEMPER.COM, Christoph C. Cemper
tel: US: +1 (866) 347-3660
tel intl: +44 800 011 9736
christoph(at)cemper(dot)com
http://www.linkresearchtools.com, http://www.cemper.com