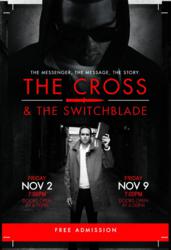 I believe God wants to introduce a new generation to this amazing story.
New York, NY (PRWEB) October 22, 2012
Strictly Young People (SYP), a ministry of Times Square Church, is proud to announce a new stage revival of the best-selling book The Cross and the Switchblade. The powerful 90-minute dramatic production of this real-life story of redemption and transformation will be presented free at the landmark Mark Hellinger Theatre on Friday, November 2 and 9, at 7 p.m. Watch the promotional video.
The Cross and the Switchblade, the best-selling book by David Wilkerson with over 15 million copies distributed in more than 30 languages, is a timeless account of a generation of young people whose lives were filled with gang violence, drugs and prostitution. Society labeled them beyond hope until an ordinary man armed with a life-changing message and a heart of compassion challenged them by proving that the power of God's love was greater than everything they could ever face. Life as they knew it would be changed forever.
The play re-enacts the story of two individuals from totally different worlds―David Wilkerson, a skinny, white minister from rural Pennsylvania and Nicky Cruz, a young, angry Puerto Rican gang leader in Brooklyn, who is heartless and respects no one. When their two worlds collide, everyone around them is affected, from the cop walking the beat to the gang and drug culture in New York City.
"He could take a bullet, he could be killed, but he stood because he was obedient to Jesus. Jesus sent him there to bring the message to the gangs," said Nicky Cruz in an April 2011 interview with Trevor Persaud in Christianity Today magazine. "I almost killed him then because I really was totally full of hate. That was when he told me that Jesus loved me," said Cruz about his encounter with Wilkerson.
The Cross and the Switchblade unfolded over fifty years ago but the issues it depicts are just as present today. "I believe God wants to introduce a new generation to this amazing story," says Pastor Patrick Pierre, who oversees the Strictly Young People ministry (SYP) at Times Square Church, which is hosting the production at their weekly service for young people called The Gate. "Young people today who see no way out but through gangs and drugs need to know there is another way."
The production features a cast of seventy young actors and integrates music throughout, including original songs with an urban appeal, spoken word and videos. Many of the members of the production team have been personally impacted by the lives of David Wilkerson and Nicky Cruz, a testimony to the fact that the story continues to have relevance. Time has not diminished its ability to positively transform young people's lives.
The Cross and the Switchblade will be presented to the general public on Friday, November 2 and 9, at 7:00 p.m. Admission is free and available on a first-come, first-served basis. Doors will open at 6:00 p.m. to allow attendees to secure seats in the main theatre.
The landmark Mark Hellinger Theater is located at 51st Street, between Broadway and Eighth Avenue. Reservations for group seating must be made through Times Square Church by calling (212) 541-6300, ext. 2291. Directions to the theater from various locations in the tri-state area are available at tscnyc.org.
# # #
Times Square Church is an interdenominational, multinational congregation, located in the heart of Times Square in New York City, founded by the Rev. David Wilkerson, renowned author of the best-selling book, The Cross and the Switchblade.