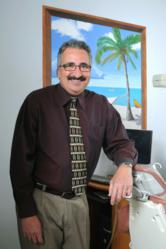 Monroe, CT (PRWEB) October 17, 2012
Dr. Richard Amato now takes 3-D x-rays of his patients' mouths with the the i-CAT Precise Cone Beam 3-D Imaging System, which he recently acquired for his Monroe, CT dental office.
The i-Cat 3-D Digital Imaging Scanner, commonly known as the cone beam, not only creates 3-D images of the mouth, but they are all high-resolution. The cone beam only takes half the amount of radiation as digital x-rays and it only takes three to five seconds to snap the image. This makes the cone beam a safer and faster method for receiving images of the mouth.
Once the images are processed, they are reconstructed on the computer screen in conjunction with software called Simplant, which allows Dr. Amato to view the jawbone from several angles. All of this is ultimately beneficial in measuring the correct and accurate placement of dental implants.
By age 74, it is reported that 26 percent of adults have no permanent teeth left. With dental implants being the most efficient method of tooth replacement, having the ability to last a lifetime and looking and feeling like natural teeth, it is important to be able to accurately place them into the jaw bone.
With Dr. Amato now having unlimited access to the i-Cat 3-D digital imaging scanner, he is able to assist dental implants candidates for a simplified, successful and efficient insertion.
To learn more about 3-D imagery, the benefits of dental implants and all other services offered by Dr. Amato, visit his website at http://www.connecticutperiodontist.com.
About The Doctor
Dr. Richard Amato is a periodontist offering patients advanced periodontal and dental implant care for Monroe, Connecticut since 1989. Dr. Amato received his Doctorate of Dental Surgery degree from Stony Brook University and completed a specialty post-doctoral residency and received his Certificate of Proficiency in Periodontics from Eastman Dental Center at the University of Rochester. He is part of one percent of dental professionals providing the most advanced FDA cleared laser procedure for gum disease and periodontal treatment. To learn more about Dr. Amato and his dental services visit his website at http://www.connecticutperiodontist.com and call (203) 712-0917.