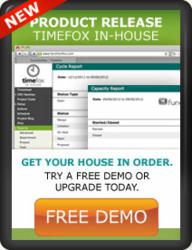 TimeFox In-House gives in-house creative teams the tools they need to analyse their work like a large agency does.
Victoria, British Columbia (PRWEB) October 17, 2012
TimeFox In-House addresses the unique needs of these groups, including tracking which departments are using their services and locating bottlenecks in the approval process, and demonstrating the value of keeping creative services in-house.
"We have seen a rise in 'agency thinking' among the 400-plus in-house creative teams that we've worked with over the past twelve years," said Corina Ludwig, President of FunctionFox Systems. "We realized we could offer these groups a better way to overcome the challenges they face, from helping them document what they're doing for each department to allowing them to demonstrate the value of the work they do. TimeFox In-House gives in-house creative teams the tools they need to analyze their work like a large agency does."
FunctionFox developed TimeFox In-House with input from active in-house creative teams that are current TimeFox customers in North America and the UK. Because these people were familiar with TimeFox Classic or TimeFox Premier, they were able to help us identify the best way to address the unique requirements of in-house teams. In order to ensure that we were creating something that would work for in-house teams of all sizes, we consulted with groups ranging from two or three employees to those with twenty or more members. We had input from a wide range of industries, including aerospace, education, finance, government, healthcare, non-profit organizations, and retail.
TimeFox In-House offers the following benefits to address in-house needs:
•Treat Departments in a Company Like Clients: Are you spending more time creating materials for Finance or for Sales? Being able to treat and track departments like clients means it's easy to see exactly where your creative hours are spent.
•Quick and Easy Metrics: Our new Capacity Report lets in-house teams quickly see how many projects have been started and closed in a specific period, and for which departments. A Cycle Report shows how long it takes for projects to move through design/approval stages (review, editing, approval, etc). This helps you see if your team is "maxed out" and locate project bottlenecks. Our advanced report generator makes it easy to set up weekly or monthly reports as templates, and save them as PDF, CSV, Excel or HTML files.
•Streamlined Project Request Forms: A simple, online Project Request Form lets departments or individuals request a new creative project from your team. This simplifies project planning from the very beginning, with standardized forms that show up in your Inbox – along with supporting documents – as soon as they've been submitted.
•Project Items "Live" Together: Everything related to a project—specs, creative briefs, image files, etc.—can now be attached to Project Request Forms so that everything is in one place before work begins. (TimeFox In-House offers Flink access; Flink is TimeFox's system for sharing documents safely and easily with colleagues no matter where they are or whether they use TimeFox or not. Exchange proofs, approve changes, and add comments with ease.)
•Flexible, Customized Fields: Not every in-house group is alike. TimeFox In-House features custom fields based on requests linked to real-life situations faced by active in-house teams. TimeFox In-House can be tailored for the most detailed in-house set up.
TimeFox In-House is now available to existing TimeFox customers as an upgrade or to new customers. Pricing is $200 US a month for one user plus $15 US month for each additional user. For more information or to try a free demo of FunctionFox products, visit http://www.functionfox.com/products.aspx.
About FunctionFox
FunctionFox is the leading provider of time and project tracking software for small creative companies. TimeFox, its web-based timesheet and project management software, is the number one ranked time-tracking system in North America. Graphic design, advertising, communications, marketing, multimedia, public relations, and interactive firms all choose TimeFox as their web-based time and project management application. TimeFox is currently used by thousands of customers in Canada, the US, Europe, Asia, Australia and New Zealand.