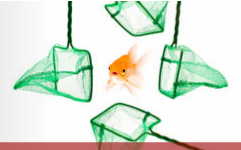 In general, we think the best kind of training in this case is simulation, so we've built a simulation-focused online training program and a phishing assessment built around simulated phishing emails.
San Antonio, TX (PRWEB) October 18, 2012
Inspired eLearning, a leading provider of commercial eLearning solutions, has created a new security awareness training and assessment service called PhishProof, which helps businesses train employees to recognize and avoid phishing emails. The program includes both training and simulated phishing emails to inoculate employees from phishing threats.
"The problem this program addresses is that hackers know what we know, which is that phishing emails are a great way to get around even the best technical defenses and email filters can't be counted on to catch most phishing emails. That means when it comes to protecting an organization from phishing attacks, you have to rely on your end users and so you have to train them. In general, we think the best kind of training in this case is simulation, so we've built a simulation-focused online training program and a phishing assessment built around simulated phishing emails. When learners actively experience simulated attacks and go through the actions required to avoid being phished, they're much more likely to do the same thing in the real world during an actual phishing attack. So running phishing assessments is a great way to build awareness, modify behaviors, and inoculate end users from phishing attacks," said Martin Rico, CEO of Inspired eLearning. "At the same time, we know that IT security departments are busy, so it's difficult for them to find the time to execute a thorough phishing assessment for all of their users. That's why we created PhishProof, to take the responsibility of building and deploying the program off of the plates of IT security professionals."
Phishing is a serious security threat for organizations. Phishing emails and landing pages usually appear to come from a trusted source, like a bank, credit card company, or popular website and are designed to trick users into revealing sensitive information, such as usernames and passwords, or clicking on links or attachments infected with malware. Once installed on a computer, malware can be used to monitor activity and log keystrokes on infected machines in order to glean sensitive data like passwords and credit card data directly from an employee's computer.
With PhishProof, Inspired eLearning offers complete phishing assessment deployment services including setup, hosting, data import, comprehensive support, graphic design for educational packages, a pre-built selection of phishing emails, management of phishing assessments, report generation, and tailored recommendations from implementation experts.
The PhishProof program starts with an iPad compatible, video-based anti-phishing training component that introduces employees to common phishing techniques and best practices to safeguard against phishing. After the initial training module is complete, simulated phishing emails begin arriving in employees' inboxes. Employees tricked by the fake phishing attempts will be redirected to a landing page titled, "You've Been Phished," which includes tips on identifying phishing scams.
Assessments can be sent monthly, bi-monthly, or quarterly from more than 30 customizable email templates taken from real-world attacks including social media account password changes, airline ticket confirmations, system administrator messages, and more.
Clients can monitor their employees' progress with detailed reports highlighting phish-prone variables, changes in vulnerability, and recommendations for future assessments.
If they prefer, organizations can use the software free of charge to deploy the program on their own. The software includes 12 phishing email templates and 8 built-in educational packages, a scrape function to use the exact login page of popular social media and banking sites to lead users to, and detailed reports and metrics.
For more information, visit Inspired eLearning's PhishProof training page.
About Inspired eLearning
Inspired eLearning is a leading provider of custom eLearning solutions including Compliance Training and Learning Management Systems. Inspired eLearning offers a wide range of courses including HIPAA Compliance, Security Awareness Training, and Workplace Harassment Awareness Training.