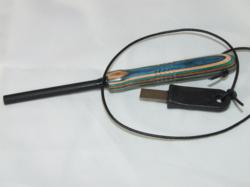 "I am very excited to have this collection of fire starters available to our customers. I wanted to create a fire starter that was very artistic, functional, and affordable. They make great gifts for any camper or anyone who enjoys the outdoors. "
San Diego, CA (PRWEB) October 18, 2012
Woodjewelry.com announced that a new product line of hand made firestarters will be unveiled at this weekends Harvest Festival in Del Mar California booth C-04.
Two different firestarters are available. The first is called the "Ranger" a 1/4 inch by 3 inch rod, and has approximately a 15,000 strike capability. The second fire starter is called the "Gunny" a 3/8 inch by 3 inch rod, and has approximately a 22,000 strike capability. They are made of durable laminated wood and available in 8 different colors.
This similar type of laminated wood is also a preferred media that is used in the gun stock industry due to its durability. The fire starter handles are first turned on the lathe, then they go through a 7 step sanding and finishing process, before being assembled.
The rod of the fire starter is made from Ferrocerium which is a man-made metallic material, (Iron, Cerium, and Magnesium) that gives off a large number of hot sparks at temperatures at 3,000 °F when scraped against rigid steel scraper.
There are many benefits by using a fire starter. First, when compared to lighters or matches, they are not effected by the elements such as rain or snow. If it gets wet, just wipe it off and it is good to go. Also, due to the large amount of strike capability, it will be effective for a long time. To facilitate the fire starting experience we suggest having a few cotton balls soaked in petroleum jelly kept in an air tight container or bag.
Michael Bihler founder of Woodjewelry, exclaims, "I am very excited to have this collection of fire starters available to our customers. I wanted to create a fire starter that was very artistic, functional, and affordable. They make great gifts for any camper or anyone who enjoys the outdoors. "
The price point for the fire starters are $21.95 for the Ranger, and $24.95 for the Gunny. They include a velvet pouch for easy storage.
Michael Bihler, had this to say about what customers have initially said about the fire starters. "The initial response so far has been very favorable. One customer said that she will keep the fire starter in her earth quake kit. Another customer said he will keep one in the glove compartment of his car."
About Woodjewelry.com
Woodjewelry.com is a handcrafted wooden gift site with beautiful products that are well made and affordable. Founded in August 2006 in Pleasanton, California. We are now located in Auburn California.