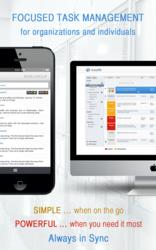 To Do Application built for businesses to manage everything task related.
Dallas, TX (PRWEB) October 18, 2012
DutyBox, a new application providing a modern twist on to-do lists and task management, is now offering a discounted rate for its services to those who sign up soon. The app allows users to delegate tasks to others while showing the status of each task, all in one location. By offering access online via a web browser, mobile phone, or tablet, the flexibility of DutyBox sets itself apart from all competitors.
The wide array of uses including for business, at home, or for general projects demonstrates the potential productivity increases that those who sign up for the service will experience. DutyBox stresses ease-of-use and a clean interface, all of which group everything related to each set of tasks in an intuitive format.
Signing up for DutyBox is simple and only takes a few seconds, and those interested can learn more by watching the short, entertaining, and informative video posted on the site's main page. Free registration is now available at http://www.dutybox.com. For additional inquiries and support, please feel free to contact us - support(at)dutybox(dot)com