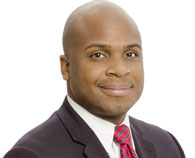 Richmond, VA (PRWEB) October 17, 2012
Williams Mullen is pleased to announce that Daniel Watkins has joined the firm as an associate in Williams Mullen's Litigation department. Mr. Watkins will be based in the law firm's Richmond office.
Prior to joining Williams Mullen, Mr. Watkins worked as a summer associate at the International Law Firm of Fulbright & Jaworski in both Dallas and Houston, Texas.
Mr. Watkins earned his B.A. in political science from Abilene Christian University, where he developed a comprehensive mentoring program for low income at-risk youth. He earned his J.D. from the University of Virginia School of Law. In law school, he was a member of the Executive Board of the Black Law Students Association and a volunteer for the Virginia Innocence Project. He also obtained his third-year practice certificate and worked with the Virginia Indigent Defense Commission, representing indigent criminal defendants facing misdemeanor charges in general district court.
An extensive world traveler, Mr. Watkins lived in Europe for several years and volunteered in Juarez, Mexico, to improve working conditions for local factory workers.
About Williams Mullen
Williams Mullen provides comprehensive legal and government relations services that help grow the business of our clients and the economy of our region across North Carolina, Virginia and Washington, D.C. As an AmLaw 200 firm, our attorneys and consultants strive to find the answers and solutions that help clients grow. Putting our clients' needs first has been the foundation of our approach since the firm was founded 103 years ago. Visit us at http://www.williamsmullen.com.