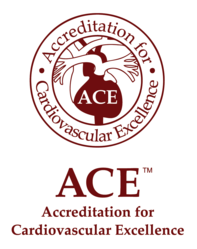 The awareness of ACE Accreditation, its values and benefits, have been growing in the Cath Lab community. We welcome inquiries on how we can help take your lab from good to great in achieving quality patient care. Mary Heisler, ACE Executive Director
Washington, DC (PRWEB) October 18, 2012
In this month's issue of Cath Lab Digest, Anne Beekman, BSN, RN, Manager of the Kresge Cardiac Cath Labs at the Frederik Meijer Heart & Vascular Institute in Grand Rapids, Michigan, cites ACE accreditation as a valuable resource in elevating the performance of their Cath Lab.
Getting ahead of the curve in meeting appropriate use standards should include third party validation. Ms. Beekman noted, "We were surprised to uncover gaps between physician documentation of clinical care and quality abstraction; this disconnect was revealed and quantified during our ACE review." Achieving quality patient care offers many benefits, not the least of which is validating methodologies to regulatory bodies and payers in the accountable care environment. Ms. Beekman stated that "the reality of value-based purchasing is here and the ACE review process can help mitigate that risk and cost to your organization."
ACE accreditation engages physicians by facilitating consensus and collaboration. By reducing complexity and focusing on the vital quality indicators that physicians deem important, "we use the ACE tools to validate and improve the care we provide," Ms. Beekman declared.
Although ACE's focus is the accreditation process for PCI services, ACE promotes and strengthens relationships between cath labs, hospital leadership and the quality department. Ms. Beekman commented, "Peer review with impartial experts assists in better understanding the relationship between quality and clinical work, and how leadership is directing care. I have found these learning opportunities to be highly effective."
Earning ACE accreditation distinguishes your Cath Lab by providing quality metrics, resources and direction that will lead to improved performance and best practices. Ms. Beekman stated, "We have experienced a dynamic process that does not end with the accreditation. ACE continues to work with us to be sure we are up to date on all the quality indicators used to measure AUC."
Visit ACE at TCT, Tuesday, October 23 -- Thursday, October 25, 2012, Booth #1177, to learn how ACE can help take your cath lab from good to great!
About Accreditation for Cardiovascular Excellence (ACE)
ACE, an independent organization sponsored by the Society for Cardiovascular Angiography and Interventions (SCAI) and the American College of Cardiology Foundation (ACCF), offers independent evaluation and monitoring of facilities that provide cardiovascular care. By reviewing facility and operator performance and comparing clinical decision-making to nationally accepted best practices, ACE peer review and accreditation services plays a critical role in continuous quality improvement programs. Learn more at http://www.cvexcel.org.