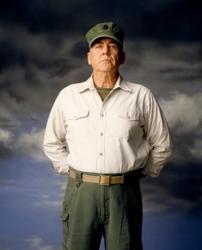 Hollywood, Florida (PRWEB) October 17, 2012
"Now drop and give me 25!" R. Lee Ermey, the actor and retired marine famous for his in-your-face motivational drill orders, will meet and greet fellow servicemen and women and film fans for free at Seminole Casino Hollywood on Sunday, November 11 from 5:30 – 7:30 p.m. South Florida's original place to play is hosting Ermey as part of its Veterans Day weekend activities.
As a Golden Globe nominee and Boston Society of Film Critics Award-winner for Best Supporting Actor in director Stanley Kubrick's Full Metal Jacket (1987), R. Lee Ermey stands as one of the most versatile and talented actors working in film and television, today.
The Kansas native spent 11 years in the Marine Corps including two as Drill Instructor at Marine Corps Recruit Depot San Diego, India Company 3rd Recruit Training Battalion 1965-67. He arrived in Vietnam in 1968 spending 14 months attached to Marine Wing Support Group 17 and completed two tours in Okinawa. He rose to the rank of Staff Sergeant and was medically retired for injuries received. Ermey studied drama at the University of Manila in the Philippines, where, at that time, Francis Ford Coppola was filming Apocalypse Now (1979) in the area. Impressed by Ermey, he cast him in a featured role.
Since then, he has since gone on to star or appear in approximately 60 films including Se7en (1995), Leaving Las Vegas (1995), Switchback (1997), Murder In The First (1995), The Frighteners (1996) and Sommersby (1993) as well as his critically acclaimed role opposite Jared Leto in Prefontaine (1997). More recently, he starred in Taking Sides (2001), Willard (2003) and The Texas Chainsaw Massacre: The Beginning (2006). He continues doing numerous voiceover roles which span from FOX's The Simpsons to Disney and Pixar's Toy Story franchise.
On the small screen, Ermey has starred in HBO's Weapons of Mass Distraction (1997), TNT's Rough Riders (1997) and You Know My Name (1999) as well as Showtime's The Apartment Complex (1999). Recent TV accomplishments include hosting the History Channel's Mail Call and Lock N' Load with R. Lee Ermey.
In 2002, Ermey received an honorary promotion to Gunnery Sergeant (E-7), becoming the first retiree in the history of the Marines to be promoted.
Group passes are required to meet R. Lee Ermey and will be available starting at 4 p.m. at the Player's Club. Must be 21 and older and a member of the Seminole Player's Club to participate in the meet and greet.
About Seminole Casino Hollywood
Seminole Casino Hollywood pioneered Indian gaming when it opened as the country's first large stakes bingo hall in 1979, eventually expanding with gaming machines and poker. It is now home to over 1,250 state-of-the-art slot machines such as Diamond Lotto, the Seminole exclusives Super 6 Lotto, Grease and Michael Jackson King of Pop, plus hot titles including Sex & the City, Wizard of Oz, Lord of the Rings, Wheel of Fortune and Monopoly, blackjack, dealerless roulette and craps and a high stakes bingo room. Seminole Casino Hollywood also features a full service bar, two delis, and an all-you-can-eat buffet restaurant open for breakfast, lunch and dinner. Seminole Casino Hollywood is located at 4150 North State Road 7, Hollywood FL 33021, just north of Miami and south of Interstate 595. For more information, please call 1-866-2CASINO or 954-961-3220 or visit http://www.seminolehollywoodcasino.com or http://www.facebook.com/SeminoleCasinoHollywood . Follow us on twitter at @SemCasinoHolly .
# # #