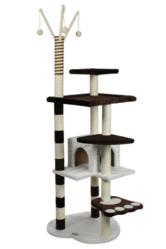 "We really enjoy hearing from our customers. We're looking forward to continue adding the products they're looking for."
Urbana, IA (PRWEB) October 18, 2012
E-commerce retailer AceCatFurniture.com has added several new products for customers in the market for cat furniture.
Large-sized cat trees, cat towers, and kitty condos are becoming more and more popular with pet owners, but selection is usually restricted to brick and mortar pet stores, which often don't carry a large variety of styles. Because Ace Cat Furniture provides free shipping, purchasing a large cat tree in the style they want is now an affordable option for cat owners.
Stasi Edberg, product buyer for Ace Cat Furniture, says cat trees are becoming more and more popular and cat owners see them as a good investment for their pet.
"While cat trees are generally considered a toy, they also satisfy both the climbing and the scratching instincts of cats," said Edberg. "Having scratching spots on a cat tree can keep cats from scratching furniture, walls, etc." Cat trees, cat towers and kitty condos from Ace Cat Furniture are designed with sisal posts or platforms for scratching.
The decision to increase the line of cat trees and towers came after feedback from Ace Cat Furniture's customers. Edberg says the company has been making an effort to reach out to pet owners to find out what products they'd like to see available on the Ace Cat Furniture website.
"This is a specialty niche market so it can be a little more difficult to spot emerging product trends," said Edberg. "We really rely on our customers to tell us what products they are interested in."
The company created a "Kitty of the Month" contest as another way to connect with customers. Cat owners are encouraged to send in photos of their cat or kitten, along with a story about their pet. One winner is chosen each month and is awarded 15% off their next order. The photos and story are also featured on the company's website and Facebook page.
A larger variety of pet beds was also recently added at the suggestion of the company's customers. While the pet beds are marketed toward cat owners, they can also be used for small to medium dogs.
"We really enjoy hearing from our customers," said Edberg. "We're looking forward to continuing to add the products they're looking for."
About Ace Cat Furniture
Ace Cat Furniture in an e-commerce company offering quality, affordable pet furniture including cat trees, cat towers, scratching posts, and pet beds. It's owned by Clickstop, Inc., a multi-brand, multi-channel merchant operating in several specialty categories. Clickstop strives to consistently deliver superior customer experience through service, product quality, selection, and value. For more information, visit Clickstop.com.