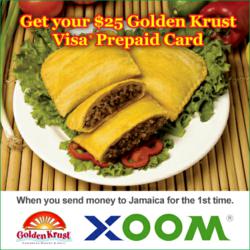 "We are excited to partner with Golden Krust and offer customers this great incentive -- to discover how convenient, safe and fast it is to send money home with Xoom," said Julian King, Xoom's Senior Vice President, Marketing and Corporate Development
San Francisco, CA (PRWEB) October 18, 2012
Xoom Corporation, a pioneer and leader in online consumer-to-consumer money transfer services to Jamaica, has announced its partnership with Golden Krust Caribbean Bakery & Grill, the largest Caribbean-cuisine chain in the United States. First-time Xoom customers who send money to Jamaica from October 5, 2012-March 1, 2013 from xoom.com/gk will receive a $25 Golden Krust Visa Prepaid Card which can be used in any of Golden Krust's 120 locations in the United States.
"Golden Krust began as a family bakery in St. Andrew, Jamaica, and has become a global brand by offering terrific island cuisine coupled with warm and friendly hospitality," said Julian King, Xoom's Senior Vice President, Marketing and Corporate Development. "We are very excited to partner with Golden Krust and offer customers this great incentive -- to discover how convenient, safe and fast it is to send money home with Xoom."
Transfers sent from the Xoom.com website to Jamaica are available for pickup in minutes at 93 locations island-wide, including branches of Xoom's partners - Victoria Mutual Building Society and Capital and Credit. Customers can also send money to most bank accounts in Jamaica.
Golden Krust is headquartered in Bronx, New York with franchises in nine US states: New York, New Jersey, Connecticut, Pennsylvania, Georgia, Florida, Maryland, North Carolina and Massachusetts. The company recently opened a restaurant at the Newark International Airport in Newark, NJ.
"We're thrilled to be collaborating with Xoom, a leader in online money transfers to Jamaica," said Lowell Hawthorne, President and CEO of Golden Krust. "Xoom and Golden Krust are committed to excellent customer service and we are happy to provide an incentive to reward our customers who send money to their friends and family in Jamaica for the first time with Xoom."
For more information on this special offer, please visit http://www.xoom.com/gk. Terms and conditions apply.
About Xoom Corporation
Xoom is a global online money transfer provider focused on helping consumers send money in a secure, fast and cost-effective way using their mobile phone, tablet or computer. With quarterly gross sending volume of more than $850 million, Xoom has more than 650,000 active customers sending money to family and friends in 30 countries worldwide. The company is headquartered in San Francisco and can be found online at http://www.xoom.com.
About Golden Krust Bakery & Grill Inc.
Golden Krust Bakery & Grill, Inc., http://www.goldenkrustbakery.com, is the nation's largest Caribbean food chain. Founded in 1989 by the Hawthorne family, Golden Krust is headquartered in Bronx, NY and has over 120 stores in nine states.