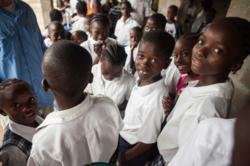 Without an education you are consigned to crime, prostitution or just working in the streets trying to find something to sell.
Pleasant Grove, UT (PRWEB) October 18, 2012
Every day in Liberia parents struggle to provide for their children. Education is considered a luxury when most families can't even afford to put food on the table. Mitch Weight, founder of Sahbu and his team are currently working in Liberia to further the country's education and deliver school supplies, clothing and toys.
"Without an education you are consigned to crime, prostitution or just working in the streets trying to find something to sell," Weight said.
Sahbu estimates that 60 percent of schoolgirls resort to having sex for cash in order to afford food, water and an education. These girls can be as young as 10 years old and sell themselves for as little as three U.S. cents.
"Education is the key to getting these girls off the streets and giving them a fulfilling life," said Weight.
Sahbu is currently in Liberia meeting with government figures, news media outlets, parents and students to further Liberia's education and to hand out 50 scholarships. Sahbu has already sponsored the education of more than 100 children and hopes to sponsor 1,000 by the end of the year.
"It costs about $160 to send a child in Liberia to school for one year," said Weight. "We can make a lot of opportunities happen for these kids just by contributing a little bit of our time and money."
The Liberian Civil War has had a major impact on Liberia's economy. Nearly 80 percent of the country's working population is unemployed, many of whom are illiterate.
"These children must learn to read and write if they hope to have a better job and a better life one day," Weight said.
According to Weight, it's not uncommon for multiple families to squat in burned down, abandoned buildings.
"Liberia is nothing like the United States," said Weight. "The living conditions are humbling. Most Liberian families live on less than two dollars per day."
Liberia has 304,000 orphans living its orphanages. Many of these children are orphans due to losing one or both parents to war or AIDS, but many parents will send their children to an orphanage because they cannot provide for them.
"As soon as we arrive at these orphanages to help out, our car is immediately surrounded by faces of smiling children," said Weight. "The orphanages' only source of income is donations. It's amazing to be surrounded by so many kids. All they want to do is hold your hand as you walk around."
Sahbu will be in Liberia until Oct 21. They are working with Lifting Liberia, a Salt Lake City organization that builds schools and donates scholarships to Liberia's youth.
"I'm really grateful for all the support we've received along the way," said Weight. "I couldn't have done it without the donations and encouragement of the Sahbu community."
About Sahbu
Sahbu serves individuals looking to further their education. For every person that enrolls in college through Sahbu's education search tool, the company provides a year of education to a child in West Africa. Sahbu also offers essential tools and resources needed for prospective students to prepare for a prosperous educational experience. The company is guided by a mission to raise awareness of the crisis West African youth are experiencing and empower them through education. For more information, visit http://www.sahbu.com or our Facebook page http://www.facebook.com/sahbusearch.