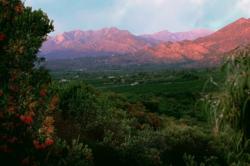 Ojai is a reminder of what holiday shopping was like before the big box bargain shops paved over much of Main Street USA - Ruth Ballin, Ojai Visitors Bureau
Ojai, CA (PRWEB) October 18, 2012
When thinking of the holidays, thoughts of snow-capped mountains and cool temperatures may come to mind. But imagine a destination with a Mediterranean climate filled with enticing visitor opportunities, spectacular spas, one-of-a-kind boutiques, and passionate shopkeepers who have special finds, maybe just that perfect gift for the season! Shopping in Ojai itself is a gift to oneself– away from the hustle and bustle of rushing through malls and navigating giant parking lots. Ojai is a reminder of what life - and holiday shopping - was like before the big box bargain shops paved over much of Main Street USA.
There's no need to wait for 'Black Friday' to shop and celebrate the season. Beat the crowds and come to Ojai the first weekend in November for the 4th Annual Ojai Village Merchants Back Yard Sale on Saturday, November 3, 2012 from 9 a.m. to 4 p.m. in the Arcade Plaza. Visitors can meet local merchants and take advantage of pre-holiday bargains from the 25 participating Ojai businesses, offering an array of collectables and gifts galore including art, jewelry, boutique clothing, beauty supplies and home décor. While browsing, shoppers will be entertained with live music – pop, jazz, Celtic and bluegrass.
For those spending the night or the weekend, Ojai has a variety of overnight accommodations to choose from – from cozy inns and B & B's to a 5-star luxury resort. Hotel packages and special rates are offered this time year.
Holidays tend to give way to thoughts of toys, and Serendipity Toy Store, an Ojai staple for 34 years, offers a variety of trendy and traditional favorites. Owned by Joe & Lili Barthelemy, the independent shop contains the once-popular slinky (the walking spring toy), 'Magic Rocks', 'Sea Monkeys', 'Jack-in-the-box' and tin toys, to name a few. In addition, the toy shop sells old European toys, wooden classics in addition to Matrushka's, Russian dolls, part of Lili's Russian heritage. Current favorites like Beanie Ballz are also available.
How about bacon candy canes? Or nostalgic circus cookies? Kingston Candy Company is a tasty paradise that appeals to the kid inside of everyone. Owned by Holly Thrasher, the sweet shop features an abundance of old-fashioned styles of boxes of candies and treats including such favorites as 'Snaps' (sugar coated licorice filled tube - so hard to find) and salt water taffies in every imaginable flavor and color. Kingston also has an amazing variety of glass bottled sodas, lunch boxes, gift baskets. New to their line are Lynn's Chocolates, Seattle Chocolates, and "Pink Mo-Mints" in collector's tins in celebration of Ojai's famous pink moment sunsets.
A stop at Rains of Ojai is a must for all Ojai shoppers. This 100-year old plus department store sells fashionable clothing for men and women, house wares, shoes, gourmet gifts, beautiful candles and more. The store started in 1874 as a small hardware shop and later became Ojai's general store, evolving into what it is today – Ojai's very own department store.
Ojai is home-grown and Made in Ojai speaks to that with the many 'Ojai only' products and gifts that can be found there. Shoppers will find Ojai's own olive oil, yummy chocolates, Lavender jam, honey and teas, soaps, candles, plus books and art from local authors and artisans. It's a great place to gather gourmet gift items to share with friends and family during the season.
Ojai's Spanish-style Arcade is a great place to wander about and find some incredible gift selections. The Lennon Closet consignment store is where designer goods can be found at bargain prices. Name sound familiar? In fact, the family descends from the famous Lennon Sisters singing group, making for an interesting stop.
Kava Gifts owned by Hildegard Tallent is the place to find custom sofas & chairs and ever-changing home décor. During the holidays, the store is decorated for the season with brightly lit Christmas trees on display and fun and interesting ornaments to choose from. Shoppers can also find a number of holiday home décor items to help make the season complete!
Ojai is an easy 90-minute drive north of Los Angeles and 50 minutes south of Santa Barbara. The closest airports are Santa Barbara (45 miles), Burbank (70 miles), and Los Angeles (85 miles).