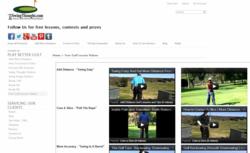 We plan to select 10 to 12 of the best golf lesson submissions for our site. Over time, our customers will decide which golf lessons to keep and which to replace from our stream of new lessons as they become available
Sherman Oaks, CA (PRWEB) October 18, 2012
1SwingThought.com, in keeping with its mission to lower golfer handicaps around the world, is pleased to announce the addition of free professional golf lesson videos to its website. 1SwingThought.com's outreach to professional golf instructors for submissions has provided a tremendous cache of effective golf lesson videos.
"We plan to select 10 to 12 of the best golf lesson submissions for our site. Over time, our customers will decide which golf lessons to keep and which to replace from our stream of new lessons as they become available," said 1SwingThought.com CEO Bryon K. Smith.
The company plans to align the videos on the site with 1SwingThought.com products to closely bind the mental with the mechanics of playing golf. The initial categories will include:

Add more distance
More accuracy
How to break 100
How to break 80
Better Rhythm
Solid Contact
Alignment
Transition
Commit to the target
Turn and trust it
Swing visualization
Professional golf instructors who provide accepted video lesson submissions will be featured in 1SwingThought.com press releases via PRWeb, the world's #1 news release service with the highest rated SEO and the recipient of over 3 million visitors each month. Additionally 1SwingThought.com will market submissions on all its properties including 1SwingThought.blogspot.com, 1SwingThought.com, its YouTube channel, Twitter, Facebook and other marketing vehicles. Submissions should be less than 1 minute in length in the categories listed above.
About 1SwingThought.com
A BILMBA Marketing & Associates owned and operated site with a patent pending line of golf lesson and swing thought stickers, located in Los Angeles CA. 1SwingThought.com sells high quality vinyl swing thought and image appliques, developed with golfers and professional golf teachers, that are water resistant, sun resistant, removable and USGA compliant.
http://www.1Swingthought.com
Contact: Bryon K. Smith
818.275.1114