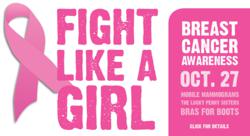 Columbus, Ohio (PRWEB) October 17, 2012
A.D. Farrow Co. Harley-Davidson in central Ohio will celebrate Breast Cancer Awareness month with a dedicated breast cancer awareness day. On October 27th the Company is inviting women to come to the Shop at NorthStar in order to have their annual mammogram. The Mount Carmel Mobile Mammography Unit will be rolling into the dealership at 9:45am to perform routine screenings. The Unit is accredited by the American College of Radiology and certified by the Food and Drug Administration. To schedule your mammogram please call central scheduling at 614-561-6237. Mount Carmel requests all of those attending to bring an insurance card and a photo id.
In addition to providing the opportunity for screening the Company is offering guests live entertainment by the band The Lucky Penny Sisters and free food. Representatives from Susan G Komen Race for the Cure will also be present to pass out information and participate in the day. In a fun and festive flare, America's oldest Harley dealer is also launching a fun promotion around breast cancer awareness. Women who bring in their old bras will receive a ten percent discount off all Harley-Davidson licensed boots. Women are invited to tack these bras to the huge banner outside The Shop at NorthStar proclaiming "Fight Like a Girl! Give Breast Cancer the Boot!" The banner will undeniably be a huge awareness generator, as riders from all over the state will see it.
This is one of several events A.D. Farrow Co. participates in for the fight against cancer. Each year the Company forms the infamous Thunder Tunnel in downtown Columbus for the Susan G Komen Race for the Cure. The "tunnel" consists of hundreds of motorcyclist lining the streets and revving engines and honking horns in order to cheer on the thousands of race participants. The Company also donated to several poker runs this year that were in support of the American Cancer Society.