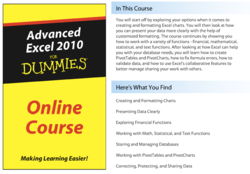 For Dummies books, videos and courses are famous worldwide because they unlock complex concepts and make them accessible to everyone.
Portland, OR (PRWEB) October 18, 2012
OpenSesame (http://www.OpenSesame.com), the marketplace for online training courses, is pleased to announce that it now counts corporate training courses from Wiley (the publisher of the "For Dummies®" brand) in its online training marketplace.
OpenSesame is the world's leading marketplace for buying and selling online training courses. eLearning buyers visit the OpenSesame website to browse more than 20,000 courses, read customer reviews, watch previews and purchase training courses they can use instantly online, through email or in any learning management system.
"For Dummies eLearning is designed to be an easy and convenient way to develop new skills and learn how to get things done with technology," said Andy Cummings, Publisher, For Dummies Technology. "We are excited that OpenSesame will now be offering a variety of our eLearning courses – from Microsoft Office and HTML5 to social media marketing."
Wiley's best-selling "For Dummies" brand creates videos, books and eLearning courses to make any learner an expert in topics of personal and professional interest from Microsoft Office to digital photography. The instantly recognizable yellow-and-black branding means the same thing to every viewer: Simple, step-by-step instruction to make any concept or skill easy to understand.
The OpenSesame catalog now features "For Dummies" learning courses on Microsoft Office, Windows 7, HTML5 and social media marketing. Additionally, the Windows 8 For Dummies eLearning course will be available with two options for users: a four-hour video training course available November 1st and an interactive course with hands-on practice labs and assessments available December 1st.
"For Dummies books, videos and courses are famous worldwide because they unlock complex concepts and make them accessible to everyone," said OpenSesame Vice President for Business Development Tom Turnbull. "OpenSesame is thrilled to connect our customers to this common-sense, accessible approaching to learning to use technology."
In addition to building the world's largest catalog of online training courses, OpenSesame has developed new, innovative purchasing models including pay-per-use pricing and ecommerce transactions. OpenSesame enables customers to find the training they need and use it instantly online, through email, or in any learning management system (LMS).
About OpenSesame
Based in Portland, Oregon, OpenSesame is an open marketplace connecting elearning buyers and sellers. Buyers browse thousands of courses in a wide variety of subjects from workplace safety to business skills, to purchase courses that can be used online, by email or in any learning management system. For more information, visit http://www.OpenSesame.com or follow @OpenSesame on Twitter.
About Wiley
Wiley is a global provider of content-enabled solutions that improve outcomes in research, education, and professional practice. Wiley's Professional Development business creates products and services that help customers become more effective in the workplace and achieve career success. It brings to life the ideas and best practices of thought leaders in business, finance, accounting, workplace learning, management, leadership, technology, behavioral health, engineering/architecture, and education to serve these communities worldwide.
Founded in 1807, John Wiley & Sons, Inc. has been a valued source of information and understanding for more than 200 years. Wiley's global headquarters are located in Hoboken, New Jersey, with operations in the U.S., Europe, Asia, Canada, and Australia. The Company's Web site can be accessed at http://www.wiley.com. The Company is listed on the New York Stock Exchange under the symbols JWa and JWb.