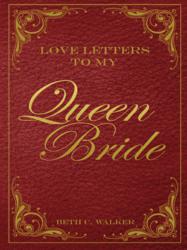 When I delight myself in praise and worship, I open my heart and mind to hear Him speak to me
(PRWEB) October 19, 2012
More than 75 love letters from God to His 'bride' have been documented during small, local worship groups held in Montgomery, Ala.
Beth C. Walker, who transcribed the collection, says the letters are directed to God's queen brides, or the individual and collective church.
The collection of letters has been divided into four sections and is presented, uncensored, in Walker's new book, Love Letters to My Queen Bride.
"I have always loved God and wanted to be close to Him and do His will," Walker says. "On my journey, I discovered that God loves to talk to us and impart to us His loving, supportive words.
When I delight myself in praise and worship, I open my heart and mind to hear Him speak to me."
As Walker explains, His words are meant to heal, comfort, encourage and edify His congregation.
"During my 16 years as a Christian counselor I learned the greatest things for my clients to discover was their identity in Christ and how deeply, completely and passionately they are loved by Him," Walker says, adding, "My prayer is that the whole world will know this."
For more information, visit http://www.queenbride.com.
Love Letters to My Queen Bride
By Beth C. Walker
ISBN: 978-1449732097
Approx. 155 pages
Paperback 6x9
Retail price: $11.95
E-book price: $5.99
Available at Amazon, Barnes & Noble
About the author
Beth C. Walker has been married to her husband, Ben, for more than 40 years. She is the mother of three adult children and seven grandchildren that she adores. After raising her children she founded a Christian counseling center where she served as director and counselor for 16 years. She also founded and directed Christ-centered drug-free clubs for at-risk youth in 23 locations in her hometown. For more than 11 years Walker led an interdenominational worship group and she also has served as a Christian speaker, Sunday School teacher and Eucharistic minister. She has volunteered with the Board of the Montgomery Mental Health Association for 12 years and the Montgomery Board of Women's Aglow International. She is quick to say only through the help of the Holy Spirit was she able to do anything and will be able to do anything in the future. Her passion is Christ.