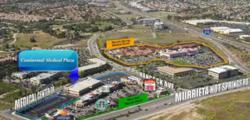 I believe what this plaza will mean is that both Murrieta and Menifee residents can enjoy restaurants and diverse shopping in their own community without having to drive elsewhere
Murrieta, CA (PRWEB) October 18, 2012
Ponies, face painting and a petting zoo fascinated the kids while their parents enjoyed donuts, sushi, pizza, haircuts and martial arts instruction when Antelope Square held its grand opening with some 800 visitors throughout the day. Even the weather cooperated and stayed in the 80's rather than three digits which can happen in the area.
Guests discovered the established collection of shops including Walgreens, Submarina, JJ Sushi, Rico's Barber Shop, Jack in the Box, Schieffer Real Estate Group, Wood Rock Fire Pizzeria, World Mixed Martial Arts, Hole in One Donuts and Angel Care Animal Clinic.
"The average age of area residents is about 32″, said Antelope Square's owner Continental East Development President Al Rattan, "I believe what this plaza will mean is that both Murrieta and Menifee residents can enjoy restaurants and diverse shopping in their own community without having to drive elsewhere."
Antelope Square is the second EB-5 offering for USA Continental Regional Center, according to Rattan. The EB-5 program creates American jobs linked to foreign investors anxious to secure permanent visas to live in the United States. "We have people around the world who want to invest in the United States," said Rattan. "Once they complete a background check, they are allowed to invest capital. These investors help our local economy by supporting businesses, buying cars and houses and stimulating growth throughout the community," he added.
Murietta Mayor Doug McAllister calls Antelope Square "an outstanding addition" to our community reminding guests that the city has been named one of the safest in California and by Forbes magazine as the national leader in recovery from recent financial crises. "When the economy rebounds it'll happen here first," said McAllister.
Patrick Ellis, the new president of the Murrieta Chamber of Commerce, added, "This is a great area and our development in Murrieta is along the 215 corridor. I think this area will grow with great demographics for success."
The center is located at the corner of Antelope Road and Scott Road with over 115,000 people living within a 5-mile radius. The square borders Menifee. North of the center are areas zoned for commercial, industrial, professional and residential buildings.
"We plan to support Antelope Square and our community and make it a California showcase for job creation and the best possible quality of life," concluded Rattan.