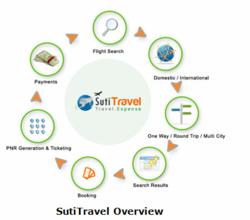 "SutiTravel enables travel agents to find the best deals, eliminates manual tasks, acts as a centralized commission and billing interface, and helps manage automatic cash flow to branches." – said N.D. Reddy, founder and CEO of SutiSoft Inc.
Los Altos, CA (PRWEB) October 18, 2012
Key Features Include:
Agents can login to SutiTravel with their unique individual login details from anywhere.
Search for flights (domestic, international, one-way, round-trip and multi-city) and filter flights based on lowest fares, airlines, stops, flight time, trip duration, currency, refundable fares, flex dates (+3/-3) and connecting airports.
Book flights, generate PNR, change booking parameters, select seats using a seat map, select meal preference, use frequent flyer number to generate PNR and tickets.
Define markup amounts for various airlines, cars, hotels and calculate total markup amounts for each airline.
Agents can customize agency logo, currency and exchanges rates they wish to use.
Generate reports such as transaction summary, cancellations, deposits, merchants, and commissions.
Automated email notifications to agents
Real-time analytics and reports on inventory status & other travel activities.
Multi-level sub agency options to manage hierarchy of sub agencies.
Visit http://www.sutitravel.com for more info.
About SutiSoft Inc:
Sutisoft is a leading provider of an integrated suite of web-based business solutions that manage tasks such as human resources, payroll, employee travel and expense management, ERP, CRM, document management and various electronic signature solutions. The company also delivers a suite of security products such as fingerprint authentication, dynamic touch screen signature, Bio-Attendance, Keystroke Encryption/Decryption, Single Sign-On and other products. These easy-to-use web-based solutions help small, medium (SMB) and large enterprises control costs, save time and secure their business processes.
The company's products are developed using Java, Flex, HTML 5, AJAX, C, C++ and other cutting-edge technologies which allow SutiSoft to retain its core values which are Simple, Scalable, Secured, and Seamless. Headquartered in Los Altos, California USA, SutiSoft has offices in Northern California, India, Germany and Japan. Additional information is available at http://www.sutisoft.com.