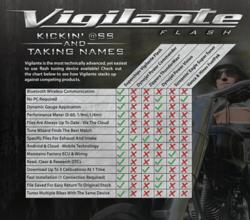 Performance Delivered... Justice Served!
Sanford, Florida (PRWEB) October 18, 2012
Vigilante is an all-new Bluetooth™ wireless Android™ based Harley-Davidson tuning and monitoring suite. Superchips has done all the heavy lifting. Just plug in the Vigilante wireless interface and tap a few selections on your Android phone or Tablet*. In moments, a rider is on the go enjoying one of the strongest rides they have ever experienced.
Scout:
Vigilante Scout is a performance gauge and monitoring device. Scout can read and clear trouble codes, run performance tests (such as 0-60 MPH, ¼ mile), and provide an extra set of gauges to monitor engine parameters not included in factory gauges, including gear.
Flash:
Vigilante Flash excels where the rubber meets the road. Flash offers the same functionality as Scout but with the added stage 1 tuning** optimizes engine operation for Bolt on modifications like upgraded intake and exhaust parts without the hassle of a replacement ECU or inline "cheater" device. Flash will instantly optimize performance and overall rideablity. Unlike other stage 1 tuners, flash is calibrated for add-on intake and exhaust.
*Android™ device not included with Vigilante products. Vigilante app works with most Android™ 2.1 or newer operating systems.
** Vigilante Flash is not currently compatible with 01-05 Touring and 07-09 sportster model Harley-Davidson. Coverage will be coming soon. Please refer to our website for coverage updates.