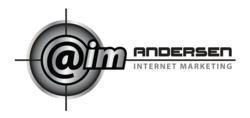 Andersen's has established itself as one of the largest Internet marketing consultants on the East Coast.
Richmond, VA (PRWEB) October 22, 2012
Andersen Internet Marketing LLC announces the appointment of Eric Gehler as company president and Ashley Darnell as VP Operations and increases east coast presence and service offering.
Eric Gehler has been appointed as company president of Andersen Internet Marketing LLC with immediate effect. Gehler was formerly CIO of Best Bully Sticks, the Richmond-based pet treat eCommerce store, and is a former Head of SEO with Big Oak Inc. The appointment boosts the new Internet marketing company's eCommerce and PPC/SEM capacity.
Andersen's CEO, Karl Hindle said, "Eric brings a wealth of eCommerce experience to the firm which will be a great asset for the increasing numbers of corporate clients we've won recently," and went on to add, "While we have a great Pay Per Click offering, we now have a fantastic pool of talent for Search Engine Marketing."
Ashley Darnell has been appointed as vice president of operations to manage the growing Internet marketing team, and oversee development of several online business partnerships the firm has entered into. Darnell was formerly head of operations for Richmond Generators, and both she and Gehler will be based at the company's HQ in Midlothian, VA.
"These two key appointments signal our intention to dominate the regional SEO and Internet marketing sector," said Hindle, "but while we have added several team members since July, we are still looking to hire additional staff to handle client growth."