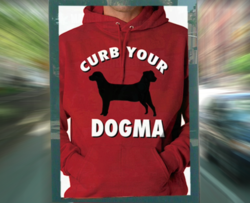 "The designs in this collection are based on the quirky observations of life by the brand's designer, Denise Goins."
NEW YORK, NY (PRWEB) October 22, 2012
Bang! Bang! Flip T-Shirts, an online urban apparel retailer, announces its fall collection by offering up their bold, quirky designs on long sleeve tees, crew-neck sweatshirts and hoodies. "Over the Rainbow," their fresh selection of thought-provoking styles created with the LGBT community in mind, is a hip addition to their inventive collection.
"These designs are based on my own unconventional observations of life around me," states Denise Goins, the brand's designer. "Living in a city like New York makes it easy to be inspired and to think-out-of-the-box creatively every day. The 'Over the Rainbow' styles, in particular, evolved out of my recognizing the lack of quality graphics for tees geared towards the LGBT community. I was keen on presenting imagery that raises the bar and offers innovative ideas. These are tasteful concepts that I foresee everyone wanting to wear. The name was influenced by the colorful, symbolic pride flag and the iconic hit song "Somewhere Over the Rainbow" which was featured in the classic American film, 'The Wizard of Oz.'"
This diverse collection features over 25 witty, eye-catching styles that are all hand printed in the United States on such well-known apparel brands as Hanes, Bella,Gildan, Jerzees and American Apparel. These designs are widely available for both women and men on all of their t-shirts, long sleeve tees, crewneck sweatshirts and hoodies in an assortment of colors and sizing from Small to 2XL. 3XL and 4XL sizes are available in the hoodie options only.
"There's something for everyone!" the brand's tagline, exemplifies the broad range of featured subject matter and artwork. From the whimsical to the chic, these stylish, fresh looks are perfect as wardrobe essentials that easily pair with the latest fall looks apropos for both day and night.
About Bang! Bang! Flip T-Shirts
Bang! Bang! Flip t-shirts is an engaging new online retail brand based in New York City. It is bursting with eclectic, original concepts that appeal to all generations and ages. Their tees and long sleeve apparel are being sold and shipped around the world. Their products can be made to order and are currently sold on etsy.com (shop: bangbangflip). Their complete collection can be viewed at http://www.etsy.com/shop/bangbangflip Check out their blog for inspiring discoveries of great t-shirt design at http://bangbangflip.com/
Denise Goins is the designer and creative force behind bang! bang! flip t-shirts. Born and raised in the Midwest, she received her BFA from Pratt Institute in Brooklyn, NY and her Masters in Digital Imaging & Design from New York University in New York, NY. She has spent the past fifteen years as an on-air broadcast designer for such broadcast giants as CNN, CBS, ABC and the CW. She began collecting fun t-shirts at the young age of eleven and years later, after selling her tees at markets and festivals in and around New York City, spearheaded this dynamic tee collection.