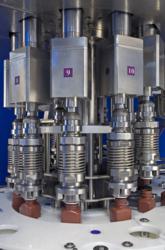 Athens, GA (PRWEB) October 19, 2012
Fowler Products, powered by Pro Mach, will demonstrate some of the latest capping solutions available for the food, pharmaceutical, spirit, and beverage industries for attendees at Pack Expo 2012. (Fowler Products Pack Expo 2012 Booth #3906)
Fowler Products 14-head capper features state-of-the-art electronic torque control and is integrated with a rejection system that provides a 100 percent inspection for proper closure application. The company's six-head aluminum roll-on capper addresses the needs that personnel in the spirits, wine, beverage, and olive oil industries have when specifying, installing, and maintaining the new generation of aluminum roll-on capping technology.
In the last several years, Fowler has expanded its scope of operations from beyond Zalkin capping and cap handling to Perrier bottle rinsing and Claranor Pulsed Light Sterilization Systems. Fowler's booth will feature two Claranor pulsed-light sanitation systems for closures. Until the development of Claranor pulsed-light sanitation systems, products requiring caps, cups, lids, and films such as juices, flavored waters, extended-shelf-life milk and other dairy-based products were sanitized with peroxide-based chemicals, a process that also ultimately consumes copious amounts of water. Interest is now building for a clean, low energy, and overall smaller environmental-footprint alternative such as pulsed light.
"For Pack Expo 2012, the Fowler team opted to display technology that would stimulate discussions in areas where companies have a need for the latest solutions and strategies in productivity, quality, sustainability, and marketing in terms of roll-on cap styles that help to build iconic brands," said Andy Monroe, sales manager, Fowler Products. "We believe the equipment we are bringing to the show will give the majority of visitors to our booth an appreciation of the wide range of solutions being offered today by Fowler Products."
For more information on Fowler products capping, cap handling, bottle cleaning, FAT multi-unit system integration, and pulsed-light sanitation, call 1-877-549-3301 and visit http://www.fowlerproducts.com to learn more about the company's capping, cap handling, and bottle cleaning equipment. Attendees are invited on October 31, 10-10:30 a.m. to the Innovation Stage in the Grand Concourse for a presentation on the Claranor pulsed-light system.
About Fowler
Fowler Products was founded in Athens, Georgia, in 1952. The company has partnerships with Andre Zalkin & CIE, Perrier Bottling Systems, and Claranor, all French companies. In 2000, Fowler became a division of the Pro Mach group of packaging companies. For more information on Fowler products, services, and contacts, please visit http://www.fowlerproducts.com.
About Pro Mach
Pro Mach, Cincinnati, Ohio, is a leading provider of integrated packaging products and solutions for food, beverage, household goods, pharmaceutical, and other diverse consumer and industrial companies. Through three business units and related divisions, Pro Mach provides equipment, training, installation, and parts in primary packaging, end-of-line packaging, and identification and tracking. http://www.ProMachInc.com