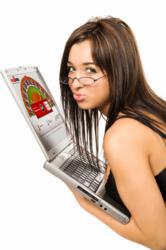 Boston, MA (PRWEB) October 18, 2012
KissorDiss.com now allows online daters to enjoy the convenience of virtually meeting their matches through live Web chats within mere seconds. Users simply enter their own sex and age, as well as the sex and age of who they'd like to meet, and are anonymously connected with a potential date or mate.
The online live chat at KissorDiss.com operates like a roulette wheel: once a match is made, the user can decide to "kiss" the other and continue the conversation, or "diss" them and move on to the next match. KissorDiss.com allows online daters to see who they're really talking to, and determine if there is any type of chemistry between them before moving on to the next step.
Users at KissorDiss.com may be looking for a friendly chat, a quick hookup or even a potential long-term relationship. Connections are made every second on the site between singles looking for anything varying from a good time to a serious prospect.
The live chat utilized at this site allows users to eliminate much of the unknown involved with online dating. They can avoid the risk of being rejected after a period of corresponding, creating a sort of online speed dating process. Far more people can be met in a shorter amount of time, and meetings are anonymous until the user decides to divulge more information about themselves. In this way, even a "diss" saves time and heartache in the online search for love.
Thousands of like-minded singles at KissorDiss.com are constantly meeting a new potential match, deciding within seconds whether they may want to move forward with the connection. KissorDiss.com is perhaps the ideal solution for the secretive person simply searching for some company, or even the busy professional looking for a match that could become a serious relationship.