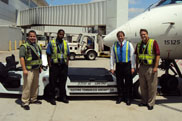 LEKTRO pioneered the towbarless tow tractor market.
Warrenton, Oregon (PRWEB) October 17, 2012
Eric Paulson, President of LEKTRO, Inc., the world's #1 producer of a towbarless aircraft tow tractors, announced that it recently delivered it's 3,700th towbarless tractor to Delta's Regional Elite Airline Services at the Detroit-Wayne (DTW) Michigan Airport. The Regional Elite model is LEKTRO's popular 120,000 all-electric AP8850SDA-AL-100, certified to handle the complete range of regional aircraft from the Dash 8 thru ERJ135/145, CRJ 200-900 and EMB 170- 195.
LEKTRO pioneered the towbarless tow tractor market when it first developed the towbarless tug back in 1967. LEKTRO combined its towbarless design with state-of-the-art battery power resulting in the safest, most efficient and most environmentally friendly tow tractor the aviation industry has ever experienced. "These features are some of the main reasons Regional Elite Aircraft Services chose LEKTRO," stated Dick Schukraft, Director of Hub Operations. "The LEKTRO tug not only helps keep our operation efficient, it helps us do our part for the environment."
Bill Kilduff, Department Manager of Ramp Operations and Kevin Gleason, Department Manager of GSE at DTW, both confirm that their LEKTRO tugs are easy to use, easy to operate, easy to maintain, and are very gentle on the aircraft. "The passenger experience while being pushed-back by a LEKTRO is unbelievably smooth, much better than a conventional tractor and towbar," stated Kilduff. "The rugged design and excellent access to the components makes maintaining a LEKTRO tug simple as well," added Gleason.
The delivery of the 3,700th LEKTRO was conducted by Sales Agent Dale Hicks of K2Eq, LEKTRO's Southeast distributor who handles Delta.
LEKTRO is celebrating its 65th year in business, which was founded by Eric Paulson's father and mother, Wilt and Violet Paulson, back in 1945. "It wasn't that many years ago LEKTRO delivered its 1,000th towbarless tug," stated Paulson. "Once most of the regional airlines in North America, as well as around the world, went with us, sales exploded. Our products are in nearly every country in the world today. In 2010, 80% of our products are being exported", adds Paulson. "It is a testament to the quality, reliability and workmanship our employees in Oregon build in each and every unit."
LEKTRO
1190 SE Flightline Drive
Warrenton, Oregon USA 97146