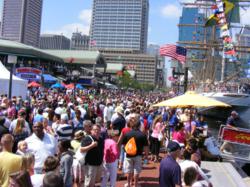 Sailabration brought in millions of dollars in revenue to help strengthen our State's economy, and that was just the beginning of a multi-year commemoration in Maryland.
Baltimore, MD (PRWEB) October 18, 2012
Star-Spangled 200, Inc. (SS200) announces that Star-Spangled Sailabration ("Sailabration"), the free, week-long maritime and air festival that launched the bicentennial of The Star-Spangled Banner and the War of 1812, had an economic impact of $166 .1 million on the Maryland economy. The total includes $97.7 million in direct impact and $68.4 million in indirect impact. Sailabration, which took place June 13-19, 2012, drew an estimated 1.54 million attendees; more than 28% were from outside Maryland and more than 76% were from outside Baltimore City. Event production expenditures were $4.8 million which generated a $35 return on every dollar invested. The research study was conducted by Forward Analytics, a market research firm whose clients include festivals and events throughout the United States.
"The War of 1812 and the Star-Spangled Banner are important moments in Maryland's revolutionary history and part of the thread that blends the fabric of our nation together," said Gov. Martin O'Malley. "Sailabration brought in millions of dollars in revenue to help strengthen our State's economy, and that was just the beginning of a multi-year commemoration in Maryland. We look forward to bringing in even more revenue for our State and sharing the many great stories from our nation's legacy."
Sailabration included an international parade of more than 45 tall ships and navy vessels, an air show featuring the Blue Angels, the world premiere of a symphonic work, and seven days of free outdoor entertainment. More than 4,000 crew members from a dozen nations participated in free ship tours, community service, and toured the area as goodwill ambassadors. More than 700 volunteers contributed a total of 9,100 volunteer hours and provided guest services, served as ship liaisons, and assisted in landside activities.
"We welcomed the world to Baltimore and showcased our amazing city and wonderful people," said Mayor Stephanie Rawlings-Blake. "Tourism is one of Baltimore's major economic engines and Sailabration revealed once again what an unparalleled host we can be." Last month the Mayor presented the Sailabration executive planning team with Visit Baltimore's William Donald Schaefer Visionary Tourism Award.
The direct impact of $97.7 million includes $94.5 million generated by non-local visitors, $780,000 by vendors and sponsors, and $2.5 million in event host spending. Visitors spent an estimated $80 per person at local restaurants, retailers, museums, attractions, hotels, parking, and transportation. In addition to the overall economic impact, Sailabration generated significant tax revenues for the local and state economy – $1.5 million in tax revenues to the City of Baltimore and $5.7 million in sales tax revenues to the State of Maryland. In addition, 4,047 full-time equivalent jobs were created.
"Our restaurants, hotels, and attractions were packed to the brim," said Don Fry, president and CEO of the Greater Baltimore Committee (GBC) and president of Star-Spangled 200, Inc. "Sailabration enlivened businesses everywhere from the waterfront and Federal Hill to Fell's Point and Locust Point. It was truly a great success by all measures."
Sailabration and the three-year commemoration are funded through corporate sponsorships, state appropriations, and surcharge proceeds received from the Star-Spangled Banner Commemorative Coin program. The coins are available from the U.S. Mint through December 17.
###
About Star-Spangled 200, Inc.
Star-Spangled 200, Inc. is the non-profit 501(c)(3) organization that supports the fundraising goals of the Maryland War of 1812 Bicentennial Commission and is charged with helping to ensure the realization of successful programs, events, and community investment during the three-year commemoration period. For more information: visit http://www.starspangled200.com.
About the Maryland War of 1812 Bicentennial Commission
Established by Governor Martin O'Malley, the commission is staffed by the Maryland Department of Business and Economic Development, Division of Tourism Film and the Arts. The bicentennial period runs from June 2012 through February 2015. It commemorates Maryland's unique contributions to the defense and heritage of the nation, including the pivotal battle that led to the birth of "The Star-Spangled Banner." For more information: visit http://www.starspangled200.org.
About Forward Analytics
Forward Analytics is a full-service provider of market research and strategic planning specializing in customer satisfaction research, customer value analysis, market segmentation, needs assessments, destination development, feasibility studies, economic impact measures, and market analysis. The firm provides quantitative and qualitative research and practical insight to clients in higher education, government, arts and tourism, education and corporate industries. For more information: visit http://www.forwardanalytics.com. Click here to download the study or call 410-767-6267.