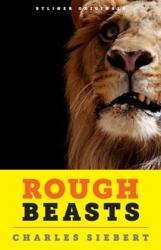 San Francisco, CA (PRWEB) October 18, 2012
It was a story everyone heard and no one understood: nearly fifty lions, tigers, and bears shot dead by police one evening near a home in Zanesville, Ohio. The eccentric owner, Terry Thompson, had taken his own life, having first smeared his body with chicken blood and then released some of the animals from their cages. When police arrived on the scene, his half-nude, dismembered corpse was being feasted upon by some of the tigers he had loved as "children." One year later, the full story of this tragedy is finally being told by acclaimed writer Charles Siebert in Rough Beasts: The Zanesville Zoo Massacre, One Year Later, released today by the digital publisher Byliner.
In Rough Beasts, Siebert shares the perspective of the animals' caretaker, John Moore, who until now has remained silent about the incident. One of the first on the scene, Moore helplessly witnessed the deaths of nearly all of the animals he had helped rear, many of whom were not only defanged and declawed but also extremely friendly toward people. His testimony helps clarify some of the strange backstory that preceded that fateful night. Terry Thompson was a charismatic and obsessive Vietnam veteran, whose war record is now called into question by Siebert's investigation. How did his purchase of one lion cub for his beloved wife, Marian, lead to the creation of this large—and by all accounts chaotic and filthy—menagerie? Was it a testament to his renegade nature or a sign of mental illness? Why did he kill himself? Might his death have been staged: a conspiracy by the government to take away his "pets"?
Siebert's gripping tale also confronts the issue of exotic animal smuggling—the third most profitable trafficking trade in the world. With so many species in danger of extinction, are men like Thompson modern-day Noahs or misguided and dangerous zealots? Could someone have prevented the sinking of this leaking ark?
About the Author: Charles Siebert is the author of three critically acclaimed memoirs—The Wauchula Woods Accord: Toward a New Understanding of Animals, A Man After His Own Heart, and Wickerby: An Urban Pastoral, which was a New York Times Notable Book of the Year—as well as the novel Angus and the children's book The Secret World of Whales. A poet, journalist, essayist, and contributing writer for The New York Times Magazine, he has written for The New Yorker, Harper's, Vanity Fair, and National Geographic.
About Byliner: Byliner commissions and publishes original stories written to be read in a single sitting. Bestselling Byliner titles include Amy Tan's Rules for Virgins, Margaret Atwood's Positron, Jon Krakauer's Three Cups of Deceit, Ann Patchett's The Getaway Car, Nick Hornby's Everyone's Reading Bastard, and Buzz Bissinger's After Friday Night Lights. The companion website, Byliner.com, gives readers personalized access to an unmatched library of fiction and nonfiction, handpicked by our editors. On Byliner, readers can discover new writers, explore, save, and share great stories, connect with other readers, and even engage directly with their favorite writers.
Rough Beasts will be available October 11, 2012, for $2.99 as a Kindle e-book on Amazon, a Quick Read at Apple's iBookstore, a Nook Snap at BarnesAndNoble.com, a Short Read at Kobo, and at Google Play.
For an Advance Reading Copy or to schedule an interview with Charles Siebert, please contact Megan Fishmann at megan (at) byliner (dot) com; 415-470-7602.