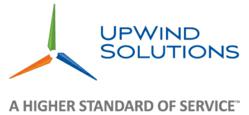 Peachy will be an integral leader in developing innovative engineering solutions that will further improve performance and production at our wind project sites.
San Diego, CA (PRWEB) October 19, 2012
UpWind Solutions, Inc., the wind industry's leading third party provider of asset management and operations and maintenance services announced today that Dave Peachey has joined the company as Vice President of Engineering. Peachy will direct the development of technology based offerings for UpWind, strengthening the company's commitment to engineering solutions that help technicians find and fix problems before wind turbines go down.
Peachy comes to Upwind with over thirty years of engineering experience and innovative solution development, most recently as CTO at KomBea Corporation. His expertise and leadership will help drive the company's strategic focus on intelligent O&M products and services that increase wind project production and profitability, making costly unscheduled maintenance and repairs a thing of the past . It is expected that Peachy will develop more products like the recently launched UpWind Analytics, the company's predictive maintenance solution built on a proprietary historian and software platform,
"We are honored that Dave has joined the UpWind team," stated Peter Wells, CEO Of UpWind. "He will be an integral leader in developing innovative engineering solutions that will further improve performance and production at our wind project sites."
ABOUT UPWIND:
UpWind Solutions is the wind industry's leading third party provider of asset management operations and maintenance services. Our team of highly experienced wind industry experts is committed to providing a higher standard of service to the growing fleet of wind turbines. At UpWind Solutions, O&M stands for more than just operations and maintenance; it stands for optimizing and maximizing wind turbine production at a lower cost per KWh, ultimately delivering a greater ROI for owners over the full project life span. For additional information visit http://www.upwindsolutions.com