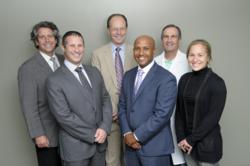 Berkeley Heights (PRWEB) October 18, 2012
Summit Medical Group, New Jersey's largest multi-specialty medical group practice, recently welcomed the healthcare providers of Allied Surgical Group to its medical team:
William L. Diehl, M.D., FACS, surgical oncologist
Mitchel Carter, M.D., FACS, general surgeon
Carey Dolgin, M.D., FACS, vascular surgeon, general surgeon
Kennedy O. Gabre, M.D., FACS, colorectal surgeon, general surgeon, surgical oncologist
Michael Most, M.D., FACS, head and neck surgeon
Michelle A. Oliver, MSN, RN.
The new relationship expands expertise for both groups, and includes Allied Surgical physicians as in-network with more insurance providers. Allied Surgical at Summit Medical Group will continue to practice at their current location, 261 James St., Suite 2G, Morristown, NJ.
ABOUT SUMMIT MEDICAL GROUP
Summit Medical Group (SMG) is the largest privately held multi-specialty medical practice in New Jersey. SMG maintains a 42-acre healthcare campus in Berkeley Heights and 19 additional practice locations in Berkeley Heights, Morristown, Millburn, Short Hills, Springfield, New Providence, Warren, and Westfield. As an East Coast premier multi-specialty group, SMG has provided exceptional primary and specialty care since 1929.