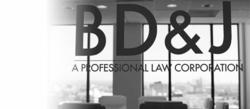 Our success in motorcycle accident cases stems from our desire to protect the rights of our clients and fight for the compensation they deserve
Los Angeles, CA (PRWEB) October 17, 2012
For the past 10 years, the Los Angeles Motorcycle Lawyers at BD&J Law have represented motorcycle riders in personal injury matters from their Los Angeles offices. Their continued success and rapid growth has led to the decision to break ground on new offices in the heart of Beverly Hills.
"We are extremely excited about our new office," Sean Banafsheh, the firm's co-founder and managing partner was quoted as saying. "This has been a long time coming. We outgrew our old space a long time ago. It will be a pleasure to come to work every day in these new state of the art facilities."
The firm has started construction on the 9th floor of the beautiful 9454 Wilshire Blvd. address. The new offices will be complete with a conference and meeting room and a full kitchen and break area for BD&J Law staff.
According to the firm's website at http://www.lamotorcyclelawyers.com, BD&J Law Firm has represented thousands of motorcycle riders in personal injury accidents and have recovered hundreds of millions of dollars for their satisfied clients.
The LA Motorcycle Lawyers parent law firm, Banafsheh, Danesh & Javid, P.C., is a well-respected Beverly Hills, California personal injury law firm that represents accident and injury victims throughout Los Angeles County and surrounding areas. They currently maintain offices in Beverly Hills, Los Angeles, Orange County, Riverside, San Diego, San Francisco, San Jose, & Sacramento.
"Our success in motorcycle accident cases stems from our desire to protect the rights of our clients and fight for the compensation they deserve." Partner and co-founder Kevin Danesh was quoted as saying. "Bikers face an unfair stigma in our society and when you couple that with the inherent danger of navigating our busy highways on a motorcycle, they've got a lot to deal with, especially following a serious accident. We try and help level the playing field for them and give them one less thing to worry about, so they can concentrate on their health and getting back on the open road."
About BD&J Law Firm
The Los Angeles motorcycle accident injury law firm of BD&J has been representing the injured for more than 10 years. The firm's partners have a combined 50 years of experience practicing California Law and they have a 97% success rate for the cases they take on. The firm takes on all manner of personal injury cases, including Los Angeles motorcycle accidents, traumatic brain injuries, spinal cord injuries, catastrophic injury cases and much more.
For a limited time, the partners of BD&J Law are offering free, no obligation consultations of potential cases. They can be reached 24/7 at 800-820-1111.