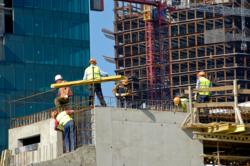 These are hazards that can and should be identified and removed from every work site before they result in major injuries or fatalities.
New York, NY (PRWEB) October 23, 2012
The New York construction accident attorneys with The Law Offices of Kenneth A. Wilhelm have obtained millions of dollars in compensation for construction workers who have suffered fall-related injuries. Unfortunately in New York City, construction activity such as those involving higher elevations continues to pose an enormous risk to workers and leads to numerous major or fatal injury incidents.
According to a Sept. 10 report in The New York Times, a bricklayer, who was working on the third floor of an apartment building under construction on Carlton Avenue in Brooklyn, had loaded cinder blocks with a boom truck when the floor gave way. He and another worker fell 30 feet. City building officials determined that the load was too heavy causing the floor to become structurally unstable. The construction company was earlier charged with a violation in July during the excavation process at the work site. No citations have been issued yet in connection with this incident. The investigation is ongoing.
According to the Occupational Safety and Health Administration (OSHA), there were 264 fall fatalities out of 774 total deaths in the construction industry in 2010. This incident serves as another reminder of the horrific consequences of a construction site accident – one that could have definitely been avoided by taking proper safety measures, says New York personal injury lawyer, Kenneth Wilhelm.
"These tragedies are certainly preventable," said Kenneth Wilhelm. "We have seen first-hand the devastation caused by fall-related injuries and fatalities. They affect workers and their families at many levels – emotionally and financially."
Wilhelm said it is imperative that fall safety devices and proper training be provided to workers in order to circumvent these types of incidents. "These are hazards that can and should be identified and removed from every work site before they result in major injuries or fatalities," he said. "These tragic construction accidents are senseless."
ABOUT THE LAW OFFICES OF KENNETH A. WILHELM
The Law Offices of Kenneth A. Wilhelm is a personal injury litigation firm with an unwavering dedication to its clients. With more than 40 years of experience, our firm strives to obtain the best compensation for those who have been injured or those who have lost a loved one due to an accident or by someone else's negligence. We handle cases dealing with construction accidents, personal injury, medical malpractice, wrongful death, workers' compensation, dental malpractice, transportation accidents, rape, paralysis, false arrest, and many other types of accidents and injuries.
For more information or for a free consultation, please call 1-800-WORK-4-YOU (1-800-967-5496) or visit our website at http://www.Work4YouLaw.com.