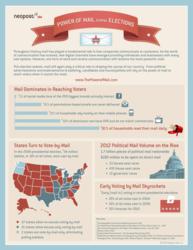 Milford, Conn. (PRWEB) October 18, 2012
Neopost USA (http://www.neopostusa.com), a leading creator of scalable business solutions for the postal and related digital communications industry, has launched http://www.thepowerofmail.com to highlight the important role that mail plays in the election process.
Despite the incredible advances in electronic communications, mail is still the most powerful way to reach election voters with household daily open rates at nearly 81 percent. This election season, mail will again play, as it has through history, a critical role in shaping the course of our country. From political advertisements and endorsements to balloting, candidates and municipalities will rely on the power of mail to reach voters when it counts the most.
Visit http://www.thepowerofmail.com to see past election mail pieces, view a compelling infographic, and take election themed polls and quizzes.
About Neopost USA
Neopost USA partners with its customers to help them achieve higher levels of efficiency, control and value in their mailing operations. Neopost USA is known for its broad line of mailing and shipping systems and mail support equipment, such as mailing machines, postage meters, folder/inserters, address printers, tabbers, mail sorting and tracking systems and mail center management tools. Its equipment and systems are supported by a combination of direct sales and a network of independent dealers providing sales, supplies and service to their customers. For more information on Neopost USA, visit neopostinc.com