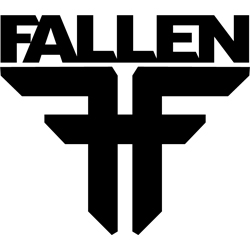 Annapolis, MD (PRWEB) October 18, 2012
Fallen Footwear has just released their Holiday 2012 Shoe Line Up and Pure has them in stock now.
Slash did a collab with his sponsor, Deathwish Skateboards, on an all black colorway.
The Slash is another proven staple in the fallen footwear line. This shoe was designed to incorporate the perfect combination of a classic supportive skate shoe with modern casual styling.
The Slash features a traditional vulcanized construction with a highly abrasion resistant outsole and an eva insole for comfort and impact absorption. The outsole taping height ensures grip response and durability.
With a heavy-duty suede, synthetic suede or canvas upper, The Slash offers slightly more padding and support than some of our slimmer silhouettes.
The simplistic design of the toe and the ollie area make this shoe a skate classic and an everyday wearer for all walks of life.
James Hardy's first signature model, the Rambler, did an all black collab with REAL skateboards.
The Rambler was designed to bring a modern vulcanized look to a uniquely designed cup sole shoe.
The Rambler features a low-profile simulated vulcanized outsole with our signature FLX construction to increase comfort and durability while ensuring board feel.
The upper is made from heavy-duty suede, canvas, or synthetic wool with minimal padding for style and comfort.
This shoe also features a reinforced ollie area for durability and a seamless toe for functionality.
Whether you're doing a noseblunt down a big rail or hiking in the backcountry, the Rambler is sure to help you on your path.
FLX-flexology footwear construction uses a lightweight tapered EVA midsole, which provides impact cushioning for the heel area only while giving maximum board control and flexibility to the forefoot. This construction is designed to be lightweight and give a similar feel to a vulcanized outsole while providing the comfort and durability of a cupsole.
Pure Board Shop opened its doors on May of 2005. After co-owning Evolve Board Shops in Annapolis and Bethesda Maryland from 1993 to 2003, Robby Roberts put Pure on the streets a few years later. Its ease of access and parking make it a destination shop for riders and urban street wear fans alike. With their mix of products and variety in skate, snowboard , surf and exclusive street wear and shoe brands Pure's customers extend far beyond their Annapolis location. Pure prides itself on customer service being its number one priority, with product knowledge and having the right product mix a close second. The store and the website feature an ever growing inventory from brands such as Nike SB, Nike Snowboarding, Travis Rice,Lib Tech, Adidas skateboarding, Vans, Levi Skateboarding, Diamond, HUF, LRG, Neff, RVCA and The Hundreds, as well as a large selection of Sunglasses and other accessories. The shop also prides itself on having the largest inventory of longboard equipment in the area; with brands like Landyachtz, Rayne, Caliber, Cult, RAD, Abec11 and many more. Pure puts on skateboard jams and video premieres at their local skateboard park as well as sponsors many longboard slide jams and races in the Metro Area.
Contact Pure at 410-267-7669.
Their new website will be up soon; pureboardshop.com