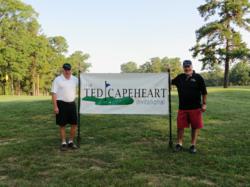 Thanks to all participants and those companies that provided support. See you all next year! - Mike Beckelhymer, VP of Operations
Texarkana, Texas (PRWEB) October 19, 2012
Ocean Canyon Properties (OCP), a privately owned membership resort and RV camping company, and CASA of Northeast Texas, a non-profit organization dedicated to providing services to abused and neglected children, are happy to announce the results of the 4th Annual Ted Capeheart Invitational tournament, hosted by OCP's Millwood Landing Golf and RV Resort on September 22nd in Ashdown, Arkansas.
Fourteen teams in total competed in the tournament. The first place team in the Championship Flight was Danny Young and Ben Davis. Second place in that flight went to Brandon and Spencer Jones. The first place team in the 1st Flight was Paul Britt and Ricky Goodson, with second place going to Eddie and Viola Parker. Closest to the pin were Ben Davis and Ricky Goodson. Finally, the longest drive was awarded to Brandon Jones.
Vice President of Operations for Ocean Canyon Properties, Mike Beckelhymer states, "Millwood and its staff went beyond expectations in accommodating CASA. The course was in great shape, although tough enough that no one won the hole-in-one and the prized 2012 Chevrolet Silverado Truck. Thanks to all participants and those companies that provided support. See you all next year!"
Ocean Canyon Properties and CASA Texarkana Board and Staff would like to thank all participants for coming out to Millwood Landing and supporting CASA for children.
About CASA Texarkana
CASA of Northeast Texas was founded in Bowie, Texas in 1990 under the direction of Judge Jack Carter and has since expanded to twelve counties in Northeast Texas and Southwest Arkansas. CASA services abused and neglected children through three local programs, CASA for Children, The Texarkana Children's Advocacy Center, and Family Matters. CASA of Northeast Texas's mission is to minimize the fear, disruption, and trauma in each child's life, and help them thrive in a safe and permanent home.
CASA of Northeast Texas is a program of National CASA, a network of nearly 1000 programs across the United States. Last year, more than 77,000 CASA volunteers helped 234,000 abused and neglected children find homes. Research has shown that children with a CASA volunteer are significantly less likely to spend time in long-term foster care.
About Ocean Canyon Properties
Ocean Canyon Properties is a growing system of eight privately owned, membership resorts that offer spacious RV campsites, comfortable vacation cabins, cottages and condos along with a wide variety of private resort amenities. With beautiful resort locations situated throughout the southern United States, OCP resorts provide the safe, secure and enjoyable recreational experience that so many families seek. Millwood Landing Golf and RV Resort is located in Ashdown Arkansas, 25 miles north of Texarkana on Millwood Lake. It features a beautiful 18 hole golf course with tree-lined fairways, pro shop, driving range, putting green, pool, clubhouse and bar. It is one of eight private resorts in the OCP resort system.
The Ocean Canyon Properties senior management has been directly involved in the membership camping resort industry on a national platform for over 30 years. This experience, combined with the rigorous standards of operation at both the resort and corporate levels ensure that the company operates securely, responsibly and continually provides the highest levels of service to its members, their guests and employees. Ocean Canyon is active in supporting community organizations that help children and families in the Southeast. You can find out more at their website at http://www.oceancanyon.com.