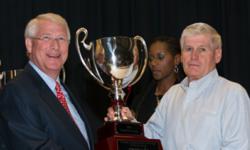 Education, especially early education, is Grenada County's primary tool for sustained long term economic prosperity.
Grenada, MS (PRWEB) October 18, 2012
The Grenada County Economic Development District (EDD) yesterday held its annual meeting at Grenada Upper Elementary School, an event co-sponsored by the Committee for Economic Development and the Grenada Community Foundation. Steve Renfroe, outgoing board president of Excel By 5, Inc. spoke as keynote at the event, which also included remarks from U.S. Senator Roger Wicker and written remarks from former Governor William Winter.
Josh Mattox, Chairman of the Grenada EDD, and Deborah Midanek Bailey, Chairman of the Grenada Community Foundation and CED Trustee, led the event. Chairman Mattox announced that jobs held by Grenada County citizens rose above precession levels in June of 2012. While Grenada County continues to focus on job growth, its attention is moving forward to the importance of investing in early childhood education as the most important element of long term economic success, said Mattox.
The event also recognized local corporations chosen by the community for their outstanding work in both economic growth and corporate citizenship. Though a number of local companies were nominated, the two prize winners were Sealed Air Products, in the under 100 employees category, and Advanced Distributor Products in the greater than 100 employees category. Each received a silver trophy, awarded by the Economic Development District and the Grenada Star, and recognition as Grenada's winners of the 2012 Corporate Citizen of the Year Awards.
"It's certainly an honor for me to address this gathering of leaders and I look forward to hearing more about the exciting things planned to support families and young children in Grenada County," said Steve Renfroe."To paraphrase General Patton, we have no interest in merely holding ground. Our job is to help Grenada drive forward to take new territory, helping all of its citizens to achieve their potential."
Convening for the third year, the EDD annual meeting brings together local and state leaders to discuss the progress of economic development in Grenada. This year's meeting centered on education as a major economic development tool, with the primary focus being early childhood education. The meeting highlighted the achievements of the prize-winning Grenada School District and brought critical needs in early education to the forefront. Some of Grenada's most distinguished achievements this year include becoming a candidate for certification as a child-centered community by Excel by 5; opening the GCF Child Care Resource and Referral Center, and more.
Former Governor William Winter, known for half a century for his advocacy for young children, expressed his support of the Grenada community's efforts to advance early childhood education in Grenada and around the nation in a letter sent to the Chairman of the Grenada Community Foundation.
Governor Winter stated, "I hope that you will…convey my greetings and thanks to all of the citizens of my home community who are working so diligently to make Grenada the most prosperous, productive and caring city in Mississippi.
"I am particularly impressed with the emphasis that you are putting on…early childhood learning and development. This is the only way that we can break the cycle of ignorance and dependency that have held us back for so long. Having grown up in Grenada County where five generations of my family have lived, I take pride in the progress and the vision that all of you are bringing to this community."
U.S. Senator Roger Wicker, who provided remarks at yesterday's event, added, "I am glad that communities like Grenada have identified early childhood education as a key investment. It is important to have a skilled workforce, and education leads to fewer drop-outs, lower crime rates, and less poverty in our neighborhoods. This is an area where everyone benefits."
About the Grenada EDD
The Grenada Economic Development District (the EDD) is the official economic development entity for Grenada County, the city of Grenada and an MDA partner. The Grenada EDD started operations in August of 2009 and works to grow jobs and investment in Grenada County through entrepreneurship development and job retention, expansion and attraction programs.
About CED
CED is a non-profit, non-partisan business-led public policy organization. CED conducts research on major economic and social issues and actively informs and engages the business community in an effort to achieve policy reform for the good of the nation. Membership is made up of some 200 senior corporate executives and university leaders who lead CED's research and outreach efforts.
About the Grenada Community Foundation
The Grenada Community Foundation seeks to bring citizens together to improve the quality of life for all. Our vision: to help build a thriving community built on a culture of lifelong learning, known near and far as a place that actively supports the ability of every child and family to reach its full potential; where local entrepreneurs and businesses are encouraged to grow; a place that organizations of many types, large and small, are eager to learn from and partner with, and to emulate.