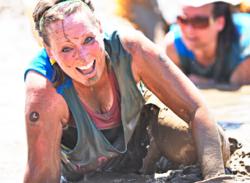 The absence of men combined with the support of fellow "LoziLu'ers" creates an environment where laughter, smiles and silly energy shine.
Phoenix, AZ (PRWEB) October 18, 2012
Festival fever hits Phoenix every February and the LoziLu Women's Mud Run is set to amp up the entertainment with its return to the Valley of the Sun on February 23, 2013. Trend-setting women collide with fitness to create a charity event for Leukemia and Lymphoma research that's one giant Girl's Day Out.
Earlier this year, the challenging, yet inclusive, 5k obstacle course drew 1500 ladies to the inaugural event. The 2013 series hosts a plethora of improvements, with new obstacles, numerous on-course musical motivation stations, and a Fitness Farmer's Market bustling with local vendors. The national women's mud run series is notorious for flowing music, dance parties on-course, and influential females spreading their love for health among friends. LoziLu girls are glamorous. On-course paparazzi snap shots of all the beautifully, muddy smiles, and professional studio photographers capture teams and their Cosmo-worthy poses on LoziLu's Red Carpet. Post-mud run ladies rinse-off and hit Salon LL to freshen up; then it's time to re-fuel. At the Fitness Farmer's Market, "LoziLu'ers" browse and sample vendor goodies or nosh on fare from local food trucks. The heart of the mud run truly lies in the laughter and love of women across the nation who make it their personal mission to care for and improve the health of their communities.
Empowerment and inclusivity are key components to the LoziLu Women's Mud Run's mission. Through innovative fun, LoziLu provides an event accessible to women with varying levels of fitness. "The absence of men combined with the support of fellow "LoziLu'ers" creates an environment where laughter, smiles and silly energy shine," says Britni Welsh, the customer experience manager at LoziLu. Building community among fit women is just one amazing aspect of the LoziLu mission. Changing lives beyond fitness, led the women's mud run to partner with L.I.F.E., a non-profit helping young patients with leukemia pay their medical bills. In 2012, LoziLu donated over $20,000 to L.I.F.E.
Whether slowly striding into the fitness scene or a seasoned-pro, LoziLu provides training programs to conquer the fiercely muddy obstacle course. The LoziLu mud run's free online training programs, Couch to LoziLu, designed for newbies, and Week of Workouts (W.O.W) aid in achieving personal goals. Fitness beyond the 5k is essential to healthy living and the LoziLu mud run recognizes an active mind and strong relationships are integral to living whole. LoziLu acts as a sounding-board where women connect year round on more than just training. Through social media, women have an exclusive girl's club where they shares fitness advice, nutrition tips, girl's day ideas, and motivation to achieve goals. LoziLu'ers are an amazing group of women at the forefront of health in their personal communities.
Mud runs, once thought of as a trendy 5k, have quickly evolved into what is now a new era of fitness. LoziLu is an inclusive mud run series where women have the opportunity to bond, laugh, smile and achieve new health and fitness goals in a supportive and fun environment. Register by October 28 and LoziLu costs just $49. For more information and to register for this fabulously fierce girl's day out in Phoenix visit http://Phoenix.LoziLu.com.