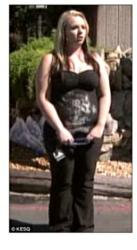 In the general workplace, it is a violation of an employee's rights to face discrimination based on his or her weight or body type.
Newport Beach, CA (PRWEB) October 18, 2012
A 20-year-old woman's application to be a waitress as a restaurant chain was allegedly rejected after the establishment's owners determined that she did not have the right body type for the job. According to an Oct. 11 ABC news report, Jennifer Rogers of Palm Desert claims that she did not get a job at the Tilted Kilt Pub and Eatery because a skirt, which is part of the uniform at the restaurant, did not fit her. Rogers made it through the application process, but was declined employment after she tried on the required "costume" and it was a size too small, the report states.
ABC News reports that the "Kilt Girls" at the restaurant are labeled as "entertainers/servers" and that the company's career site states that applicants must adhere to the established appearance guidance and maintain their look during the course of their employment there. The restaurant has three sizes of costumes and waitresses are required to fit into at least one of them, a statement from the company to ABC News said.
According to the U.S. Equal Employment Opportunity Commission's website, Title VII of the Civil Rights Act of 1964 prohibits employment discrimination based on race, color, religion, sex or national origin. The Equal Pay Act of 1963 protects men and women who perform substantially equal work in the same establishment from sex-based wage discrimination. In addition, the Age Discrimination in Employment Act of 1967 protects individuals 40 years and older from being discriminated against or denied a job solely based on their age. Federal employment laws also protect the disabled and pregnant women from discrimination and some states prohibit discrimination against individuals based on sexual orientation. However, there are no laws that specifically prohibit discrimination based on body type.
Any type of discrimination in the workplace should not be tolerated, said John Bisnar, founder of the Bisnar | Chase personal injury law firm. "In this case, it remains to be determined if the body type of the waitresses is integral to the theme and concept of the eatery. In the general workplace, it is a violation of an employee's rights to face discrimination based on his or her weight or body type. A person should not be declined employment or denied promotions or other job perks just because of how he or she looks."
About Bisnar | Chase
The California employment lawyers of Bisnar | Chase represent victims of discrimination at the workplace, auto accidents, defective products, dangerous roadways, and many other personal injuries. The firm has been featured on a number of popular media outlets including Newsweek, Fox, NBC, and ABC and is known for its passionate pursuit of results for their clients. Since 1978, Bisnar | Chase has recovered millions of dollars for victims of auto accidents, auto defects and dangerously designed and/or maintained roadways.
For more information, call 800-561-4831 or visit http://www.orange-county-lawyers.com for a free consultation.
Source: http://abcnews.go.com/blogs/headlines/2012/10/woman-who-cant-fit-into-skirt-denied-job-as-kilt-girl/