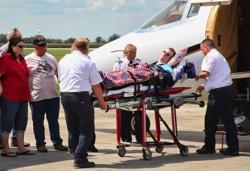 "It was one of the most rewarding flights I have ever been a part of," Julie Longmire, RN, BSN, Angel MedFlight flight coordinator
JONES CREEK, TX (PRWEB) October 19, 2012
After spending the last five years in specialized treatment and rehabilitation facilities for a traumatic brain injury suffered during Operation Iraqi Freedom; on September 27, 2012, Sgt. Bradley Thomas returned home to a town that never left his side.
"It was one of the most rewarding flights I have ever been a part of," Julie Longmire, RN, BSN, Angel MedFlight flight coordinator said. "I am so thankful to have been a part of the effort to bring this young man home. The way this community has honored its hero should set an example for the country."
Sgt. Thomas' convoy was attacked with an improvised explosive device (IED) while traveling through Iraq. The device was buried beneath the road and completely undetectable by the United States soldiers. When the IED detonated, multiple soldiers, including Sgt. Thomas, were injured. Sgt. Thomas was later listed as one of the most severe traumatic brain injuries of 2008.
Over the last five years, Sgt. Thomas has been in and out of multiple hospitals in New Jersey and Florida that are dedicated to the treatment and rehabilitation of wounded soldiers. During his time in critical care, he was transported by medical flights three times, thanks to Angel MedFlight Worldwide Air Ambulances.
The Angel MedFlight air ambulance flight from Florida to Texas lasted only two hours but when Sgt. Thomas arrived he was greeted by a carefully orchestrated parade fit for a hero. Police, firefighters, hundreds of members of the Brazoria County Cavalry and community members escorted Sgt. Thomas the 20 mile journey from the airport to his home. American flags waved, people cheered and sirens roared for the United States soldier who was finally home.
About Angel MedFlight Worldwide Air Ambulance:
Angel MedFlight coordinates domestic and international air medical transportation services, commercial medical escorts, ground ambulance services and provides discretionary insurance benefit assistance. Angel MedFlight's One Touch Promise® assures every detail is handled and all resources are committed to guide the process from start to finish with a compassionate team of experts in the fields of medicine, aviation, insurance law and case management. http://www.angelmedflight.com
###
Media Inquiries:
Jenna Murray
(480) 559-6841
JMurray (at) angelmedflight (dot) com