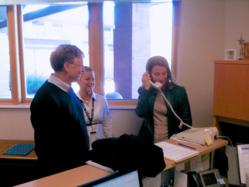 Bill and Melinda asked really perceptive questions and listened intently as we described the educational reforms that we're piloting for the state of Colorado.
Eagle, CO (PRWEB) October 19, 2012
During a learning visit to Eagle County Schools Bill and Melinda Gates spent time at Eagle Valley High School to get an authentic and hands-on view of the district efforts in improving student outcomes by enhancing teacher development and support. Eagle County Schools is one of several Colorado school districts supported by the Colorado Legacy Foundation to implement and integrate several critical education reforms underway to prepare students for college and career. These districts, known as "Integration Districts," are partners with the Colorado Legacy Foundation, with support from the Bill & Melinda Gates Foundation.
Projects in the Integration Districts include implementation of the new Common Core State Standards, professional development for teachers, and improved teacher and principal evaluation and feedback processes.
As a pioneer in education reform over the last decade, Eagle County Schools has a solid foundational base to launch the integration of the new state guidelines, and then share our process with other districts in the state. The District is currently in the second year of a three-year integration process.
The District Leadership team, comprised of Superintendent Sandra Smyser, Director of Curriculum, Heather Eberts, Director of Professional Development, Traci Wodlinger, and Director of Human Resources, Brian Childress, spent a significant amount of time discussing the administrative process of implementing the reforms in the second largest school district on the Western Slope. "This misconception is that the new state standards is a 'sharpening' of content, but it's really about teaching content in a new way that is more compatible with how students learn," Eberts said. "First, we have to support our teachers with training on new instructional methodologies."
Mr. and Mrs. Gates next joined in a lesson plan with students to see first-hand how a class was directed using the new Literacy Design Collaborative classroom tool. High school language arts teacher, Mary Ann Stavney had perhaps the biggest task of all, asking herself, "How do you create a lesson plan and lead a class for Bill and Melinda Gates?" Her answer was business as usual: small study groups where students read, evaluated, and discussed two sides of an issue.
"Bill and Melinda joined right in, with students introducing themselves and then debating with them just like they were classmates," Stavney said. "It was really fascinating to listen and see the discussion unfold. Bill and Melinda were totally engaged, as were our students."
After meeting with students, the Gates' met with teachers and principals trained in the Literacy and Math Design Collaborative processes to speak openly about the benefits and challenges of both programs. "Central to the integration process is the on-going and embedded teacher training on the new methods and the common core standards," Traci Wodlinger, Director of Professional Development at Eagle County Schools, explained. "Meeting with our team of educators allowed Bill and Melinda to ask questions and gain insights straight from the professionals who are implementing the programs."
"Today was a watershed moment for many of our students. Many will remember meeting Bill and Melinda Gates for the rest of their lives," said Superintendent Smyser.
By the afternoon, Eagle Valley High School was buzzing with an energy that rivaled homecoming week. "Were Bill and Melinda Gates really in the school, or was it an elaborate prank orchestrated by the "Hot Stuff" pep club?" Mr. and Mrs. Gates put the rumor to rest by thanking all students for their time over the public announcement system just prior to their departure.
# # #
Eagle County Schools is a nationally respected and award-winning Colorado school district of nearly 6,500 students and approximately 850 employees. With tremendous support from the community, the district has created a variety of progressive learning environments to meet the diverse needs of students and parents. Leading the nation in education reform, many proven practices of Eagle County Schools are included in new state and national initiatives, including professional development for teachers and principals, multi-level career paths for educators, pay-for-performance compensation, and the implementation of a challenging curriculum. For more details visit http://www.eagleschools.net.