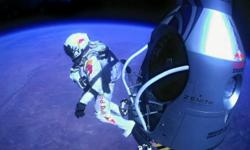 When you have a great message, a great plan, and great execution, this is what you get
SALT LAKE CITY, UTAH (PRWEB) October 18, 2012
PilmerPR, LLC public relations and marketing firm today recognized Red Bull for its masterful Stratos #LiveJump campaign as a guerrilla PR top triumph. Without endorsing energy drinks, PilmerPR takes its hat off for the amazing results garnered by a top public relations team.
"When you have a great message, a great plan, and great execution, this is what you get," states John Pilmer, founder of PilmerPR, a guerrilla marketing and PR firm specializing on PR online and reputation management PR. "Red Bull put a lot of thought and a really big budget on this one and they won."
On its blog, PilmerPR explores the massive Social Media PR results of this seven month campaign that topped all previous Red Bull publicity stunts and extreme events. The energy drink company amassed 140,000 Facebook fans and 235,000 Twitter followers over the seven month campaign. Their YouTube channel has more than 300 million views.
"The difference between this event and others done by Red Bull is this one has real scientific value," says Pilmer.
Felix Baumgartner, the human extreme jumper guinea pig, was in real danger tempting fate to find out how far and fast a human can fall. Jumping over 24 miles and exceeding 800 mph Felix joins names like Yeager, Glenn, and Armstrong in the Guinness record books.
In contrast, the first American in space, Alan Shepard, has 221,000 Google images. Felix has 61 million.
In addition to providing exceptional traditional media relations results, PilmerPR excels at Reputation Management PR, Social Lead Generation, Search Engine and Conversion Rate Optimization, and Infographic Design to its success in other PR online services.
PilmerPR recognizes that excessive use of energy drinks can be addictive.
About PilmerPR, LLC
The PilmerPR team has more than 50 years of collective experience in marketing and public relations with specific backgrounds in high-technology, engineering, retail, real estate, print journalism, social media, travel, music and rapidly rising areas of SEO and Green PR. Founder John Pilmer is Accredited in Public Relations (APR) by the Universal Accreditation Board. APR is a mark of distinction for public relations professionals who demonstrate their commitment to the profession and to its ethical practice.